This blog post is a very long time in the making as I have thought for a while that embroidered thread samples would be a great way to really appreciate how to best utilize each thread weight in your embroidery.
As a part of Aurifil's Aurifilosophy program, I get the awesome opportunity to teach about Aurifil thread via online and in person presentations and workshops but also via guest blog posts for Aurifil! I chose May for a three major reasons: my birthday month, it was the pink thread box (and come on…TKC and pink are best friends), the Machine Embroider A Long is wrapping up and Foundations of Machine Embroidery launches again later this month! Truly some of my fave things, all coming together!
With such exciting things all in one month I knew it was time to finally make the embroidery sample post. I know…you're dizzy with excitement. I get it! Big stuff here. Try to contain it.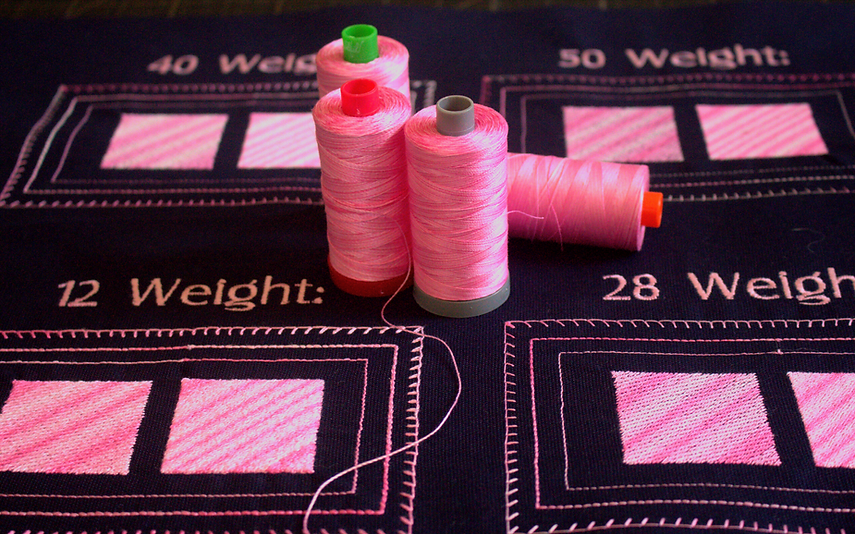 Sarcasm aside this is a really fun project and it's shocking how much you can learn from it. I seriously was impressed with how insightful it is to have a side by side comparison of these thread weights. This blog post is made to work in conjunction with my Auribuzz blog post. This post shows you how to stitch your own sampler, while the other post breaks down what the samplers show us. Go check out that blog post for a detailed break down of each thread weight and how to best use them.
This post contains affiliate links. Thank you for supporting Tough Kitten Crafts.
Supplies
Canvas Fabric
90/14 Topstitch Needle
Aurifil Cotton Thread in 12 weight, 28 weight, 40 weight and 50 weight (ideally inthe same color)
Instructions:
Wind a bobbin with 50 weight Aurifil, you will use this for every one of the samples.
Thread the machine with your first thread weight.
Install the 90/14 needle in your machine, once again you will use this for all the samples (even though it's very large needle for the 40 and 50 weight
Cut fabric, fusible woven and cut away stabilizer to the size of your embroidery hoop. Be sure they are the size of your embroidery hoop plus 2 inches on all sides.
Fuse the fusible woven to the back of your fabric.
Spray the cut away stabilizer with the spray baste. Smooth the side with the spray baste to the fusible woven. Your layers will be: Fabric, fusible woven then cut away stabilizer.
With the stabilizer up, hoop your fabric. Remember! Never tug on your fabric, it can cause puckers.
Stitch out the design
Repeat steps 4-7 for all thread weights.
Finish as desired. Some ideas: overlock all four sides to keep the samples separate or patchwork them together to create a wall hanging for your sewing room.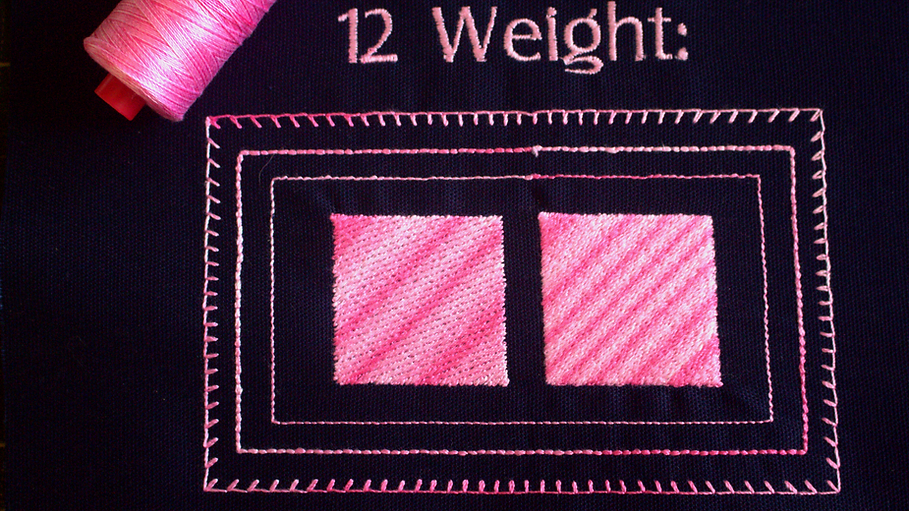 Want more help embroidering with thick threads? I am running a live version of my 12 Weight Workshop in June! But of course you can grab the class now and start watching right away when you sign up for the 12 Weight Workshop now.
Of course if embroidery in general stumps you, you can always join my class Foundations of Machine Embroidery. This class will take you from frustrated to fearless with machine embroidery using my Four Weeks to Fearless Framework. I created this framework to help you strategically build your confidence with machine embroidery while learning how it works from the foundations up. Ready to join the hundreds of students who have already taken this course and are now loving machine embroidery. Learn more about the course by joining the waitlist or signing up today!
Enrollment only opens at certain times per year so you'll want to get in the course while you can.