I wrote a tutorial for BERNINA's blog We All Sew where I teach you how to machine embroider a rope bowl. I loved getting to do this blog for BERNINA and I was so excited I made multiple rope bowls, each one utilizing different embellishing techniques. Let me show you some of the fantastic embellishing techniques you can use to make your embroidered rope bowl even cuter.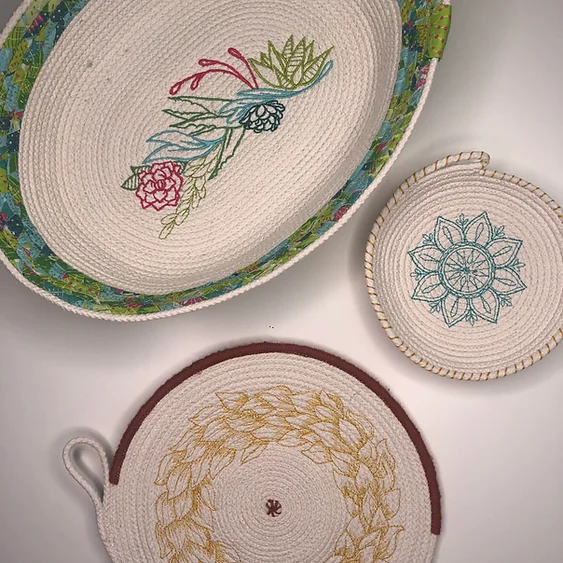 Are you ready to learn every icon function and feature of your BERNINA embroidery machine? Join the hundreds of students who have had their confidence in their machine skills changed forever thanks to my virtual course B.E. Genius.
Click Here to learn more about B.E. Genius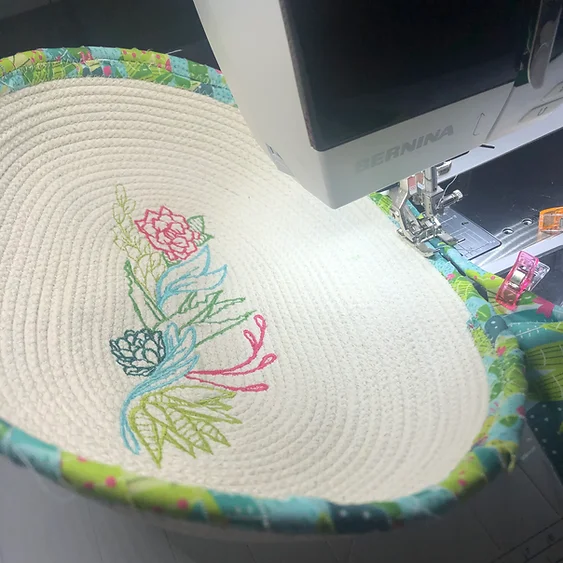 1. Fabric Wrapped
After embroidering your rope bowl base you can add wrapped fabric to your cord. Have fun playing around with the placement of your fabric: wrap it around the full top like the basket in the photo or do it at random intervals for added interest.
I liked Modern Handcraft's tutorial on making fabric wrapped rope bowls.
This tutorial will teach you to how to add intermittent scraps of fabric but you can easily apply the same technique to add continuous fabric.
Of course don't forget to check out Modern Handcraft's quilt patterns while you're over there! I have plans to make Nicole's Phase quilt this summer.

Click he photo to learn more about B.E. Genius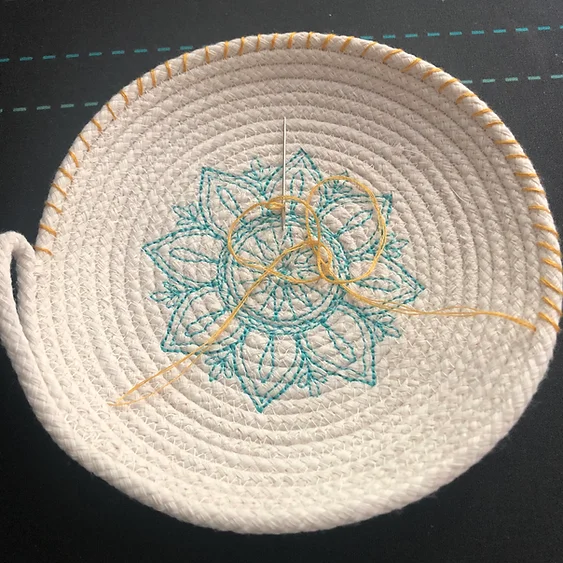 2. Hand Embroidery
Adding some hand stitching to your embroidered rope bowl is a great way to further personalize and decorate your rope bowl.
I just dove into my design and made it up as I went along but if you'd like a clear direction and a great tutorial you can check out Crafty Patti's video on adding hand embroidery to your machine embroidered bowl.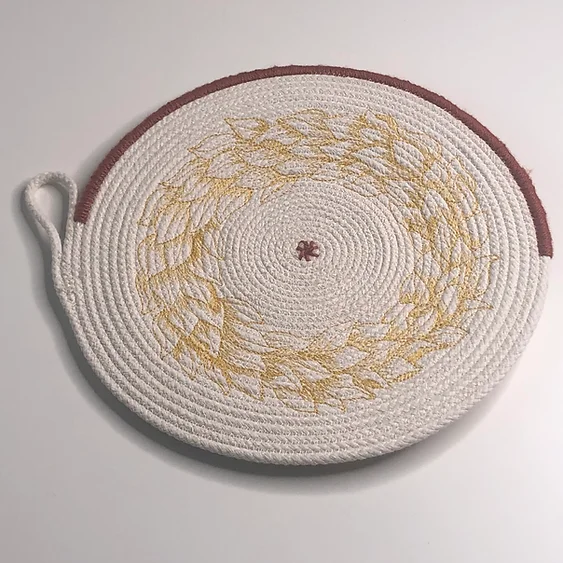 3. Yarn Wrapped
If you're anything like me you have picked up about a thousand hobbies over the years. My longest running hobby is knitting which means I have a ton of yarn around the house and I'm always looking for ways to use it up.
The trivet I made for my We All Sew blog post was wrapped with cotton yarn and I loved the look. In the future I would use a thicker yarn so it didn't take so long to wrap. It's fairly straight forward to add yarn to a rope bowl, but this tutorial is fantastic if you're wanting some explicit directions.
4. Painted Bowl
I haven't gotten the chance to try this one out event though I'm really in love with it. I love the look of the painted bowls from Honestly WTF and the tutorial is so easy to follow.
I'm excited to play around with the colors and designs to compliment my embroidery design.
Check out the tutorial for painted bowls here

Click the photo to learn more about Foundation of Machine Embroidery
That's not all! You can also….
Use contrasting thread colors
Add trim
Sew handles
Dye your rope with Rit
Use decorative stitches
Sew and/or glue any number of ridiculous or adorable items to the outside of your rope bowl.
The creative options are truly endless and I really hope you explore them as you make rope bowls of your own! If you make any embroidered rope bowls, be sure to tag me on Instagram @ToughKittenCrafts or add your rope bowl pics to the Tough Kitten Crafts Facebook Group.
xoxo Kate