If you have an extra hour and an old pair of jeans you can make a stylish and durable bag for all types of travel! I loved this make and I know you will too.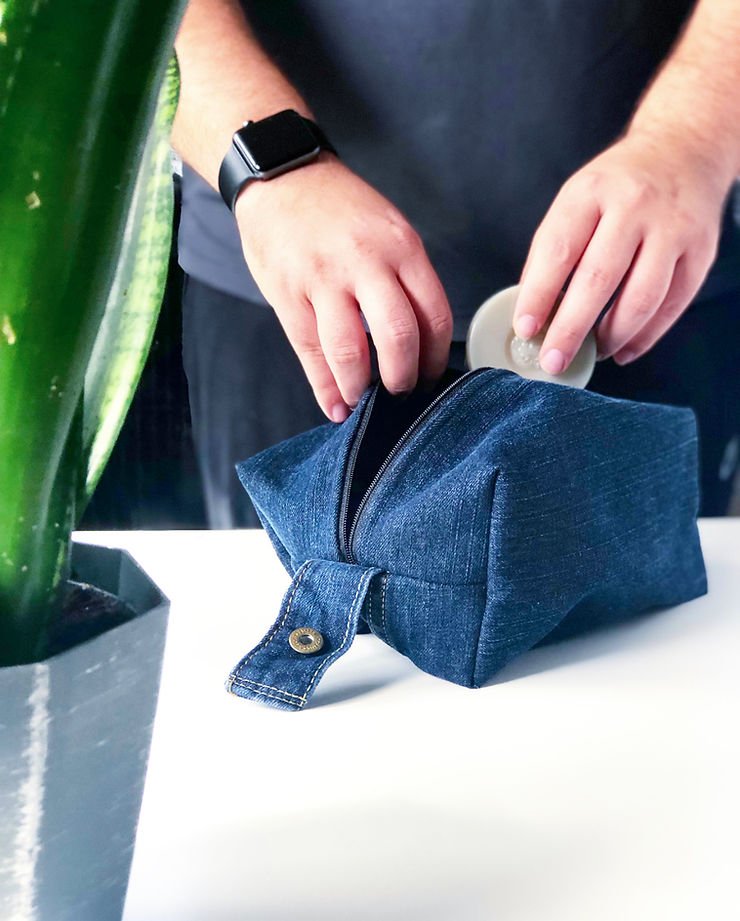 I don't know about you but I tend to collect items I just KNOW I can make great use of "later"
Sometimes these are items of my own that I hold on to for far too long, sometimes they are items from others that I inhereted (or worse, asked for. Ugh. Kate. Whyyyy are you asking for things to house for months without using?)
More often than not, "later" never comes for these items and I end up housing them for far too long before they get passed along to someone else.
Did you know that you can sharpen disposable razors using jeans?
It's a real thing and helps extend the life of plastic razors far beyond their usual life expectancy. Until I bought my metal razor, it was my way of using less plastic.
I got a good pair of heavy jeans from my dad (not jeggings like I usually wear), used them twice to sharpen razors and then there that sat.
In the "later" pile they went; "I'll make something with them later!"
Y'all.
"Later" finally showed up! And they only sat in the bottom of my hamper for about a year. Not too bad, eh? For me that's practically an immediate turn around, ha ha!
I was planning gifts for the holiday when I needed a good fabric for a men's dopp kit; all the Tula Pink, Christmas fabric and linen of my stash were just not working. Then I remembered those old jeans! I thought it could be pretty darn cute to make a travel kit out of these old Levi's and definitely durable for all types of travel!
This make was really fun! I had a couple moments where I had to reformulate my plan but that's how upcycles tend to go; ya gotta be ready to change plans a bit.
I was figuring things out as I went along and I'm happy to report that the couple "oh…..crap" moments I had were easily rectified and didn't distract from the over all end result.
I had NO idea if this would actually look the way I wanted it to but once it was finished I was sooooo flippin' pleased with the finished product!
There is a disclaimer on this project, however…
There was one portion of this bag where I was going through TWELVE LAYERS OF DENIM AND A ZIPPER.
Seriously.
Poor planning on my part led to this and once I got there there was no turning back, I was too far in.
BERNINAs are so freaking tough and my B880 handled it like a DREAM. She got the job done without so much as a shudder.
In the pattern below I will let ya know how to fix it so you potentially don't have to go through so many layers. If you prefer you can finish your seams with an overlock instead of making french seams.
But I want to say this:
Do not take on this project the way I did if your machine cannot handle multiple layers of denim! Even if you have a tough as nails machine, I need you to be careful and take your time on this bag. So much denim, so many layers.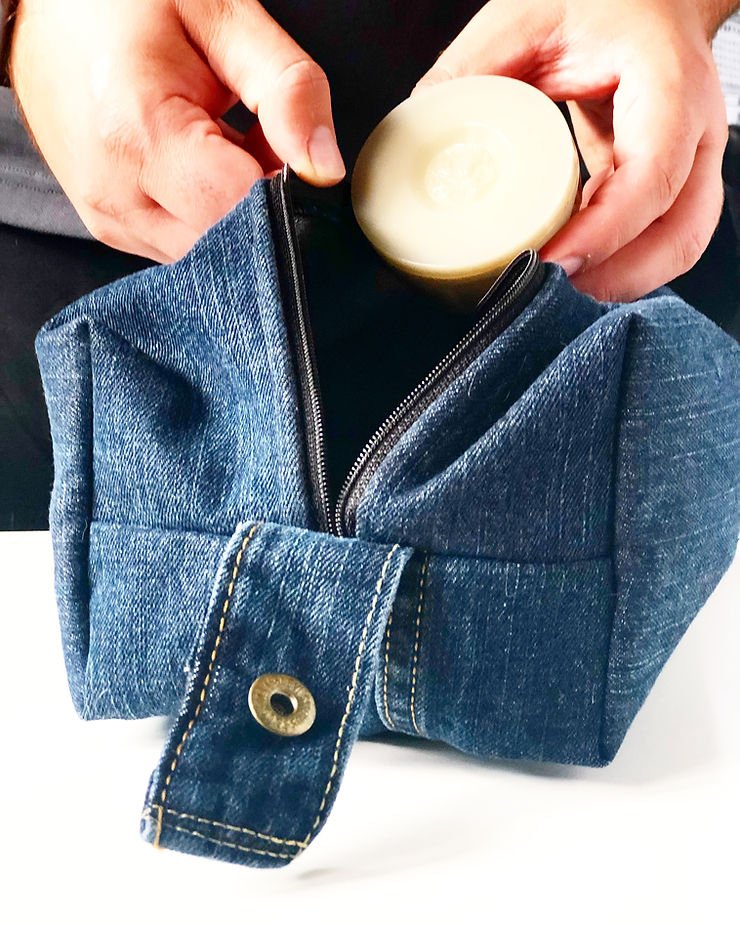 The Denim Dopp Upcycle gets done in an hour, it's freakin' great.
**This post contains affiliate links. This means when you click the link and shop the items,
I get a small portion of that sale.
Thank you for shopping my links and supporting Tough Kitten Crafts.
Upcycled Denim Dopp
Materials:
Note about the jeans:
I used size 38 in a straight leg. Smaller size may mean smaller dopp kit, and using something other than a straight leg may mean more cutting to size and finishing your own seams for the inside. Just roll with it and get creative! Upcycles are fun for figuring out on the fly.
Instructions: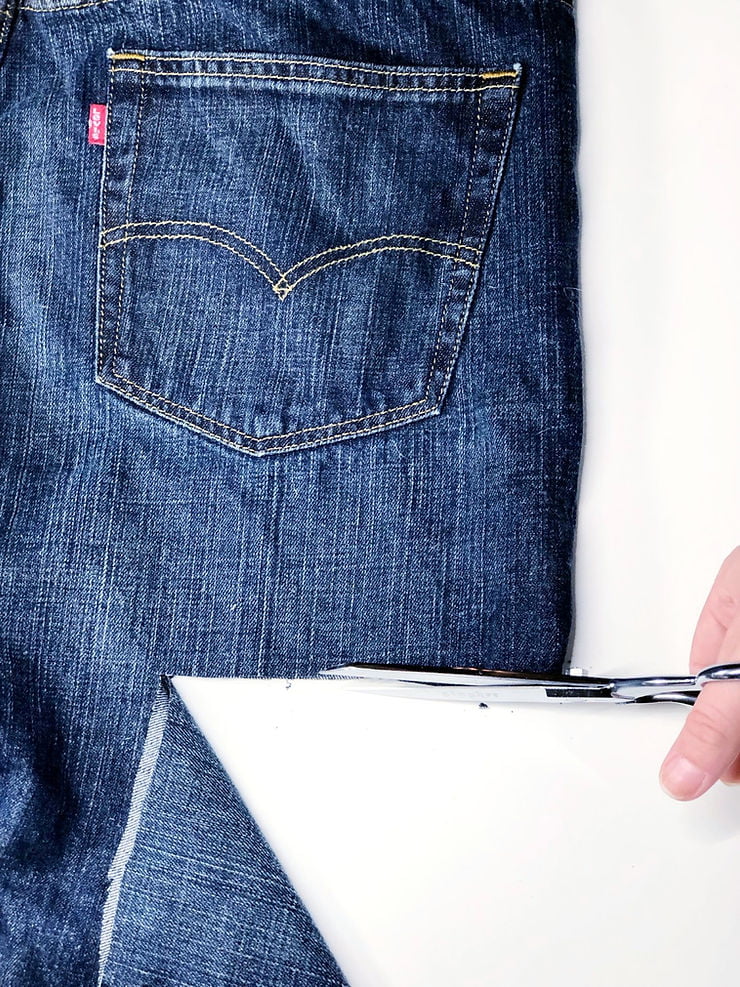 Cut off one pant leg.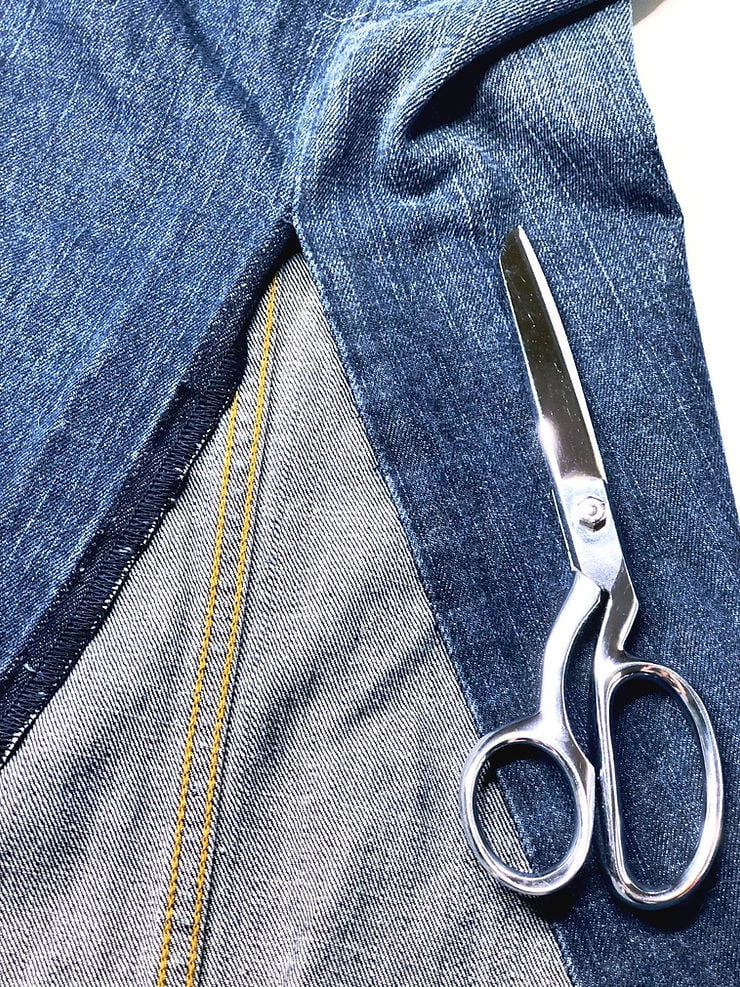 Carefully cut the ladder stitch at the seam; you don't want to cut into the material, just the stitches. This is to preserve as much material as possible for the dopp bag.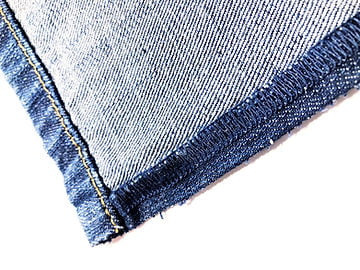 We are also preserving the overlocking on the edges of the jeans and using the folded edge to sew to the zipper, so you want to be very careful to only cut the threads, not the denim.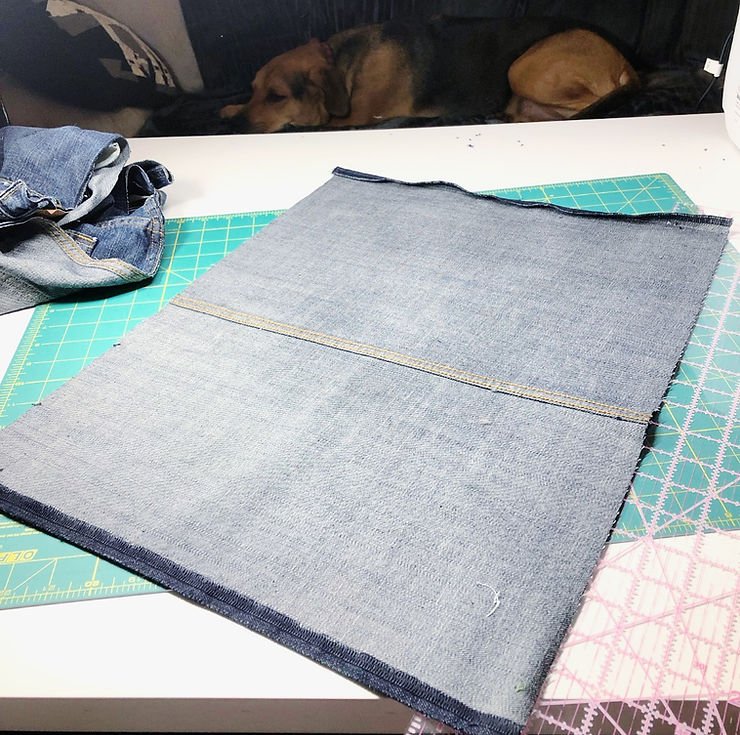 Press the denim. Cut denim to 16″ by WOF (Width of pant leg?) Mine came out to approximately 20″ x 16″, yours could vary depending on the size of your jeans (once again, roll with it! Change up the size to what ever seems best for you).
I had to include the sleeping Alfie in the background cause he's so cute and always around for moral support (until I drop something; that's too scary and means he has to leave the room)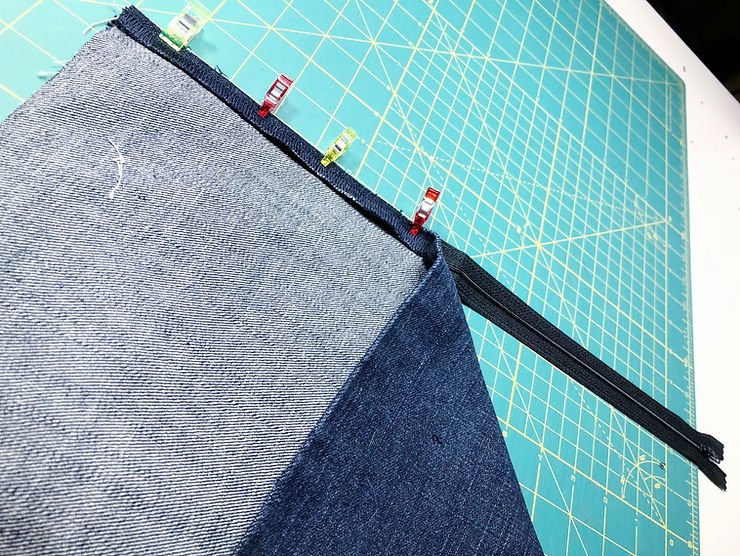 Now we attach the zipper. Place your zipper right side up with the pull to the right. Place your fabric on top of the zipper and, right sides together, clip the folded edge of the denim to the edge of the zipper tape. Line up your zipper with the left side, you will have about an inch on the zipper pull side that sticks out from behind your fabric.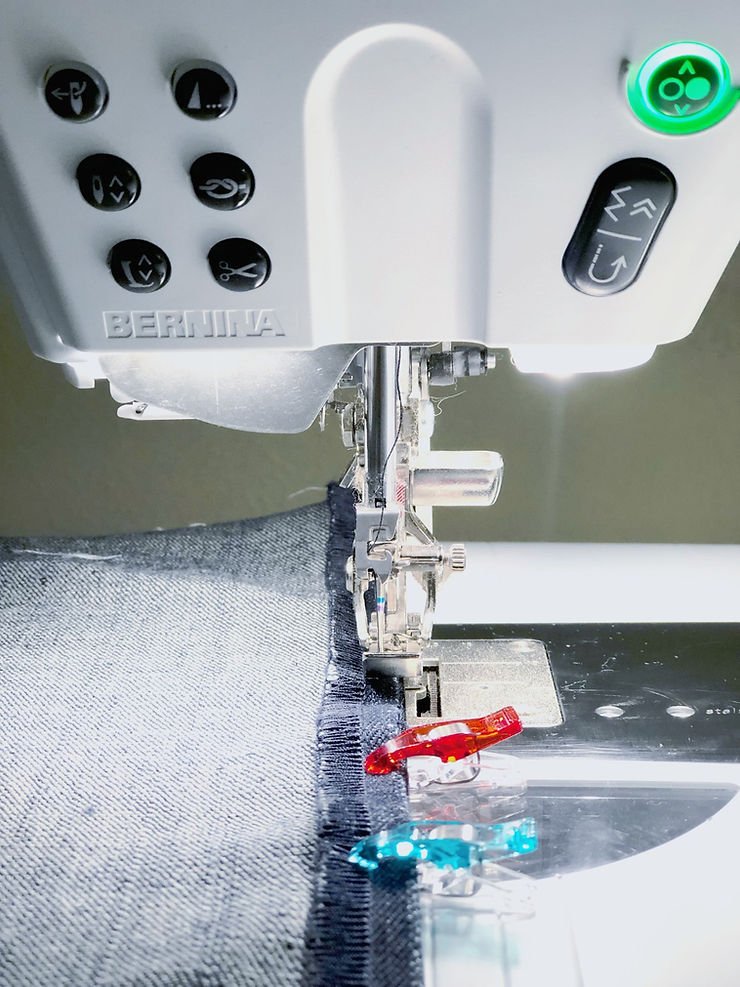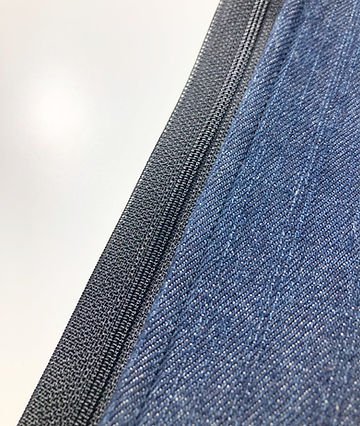 Using your zipper foot and a brand new jeans needle attach your zipper. This is one of the areas that is very bulky but it's okay! Press your fabric back as best as you can then topstitch about 1/4″ from the edge, so it stays put. I used black but it would also be really cute to use Aurifil to match the stitching on the Levi's.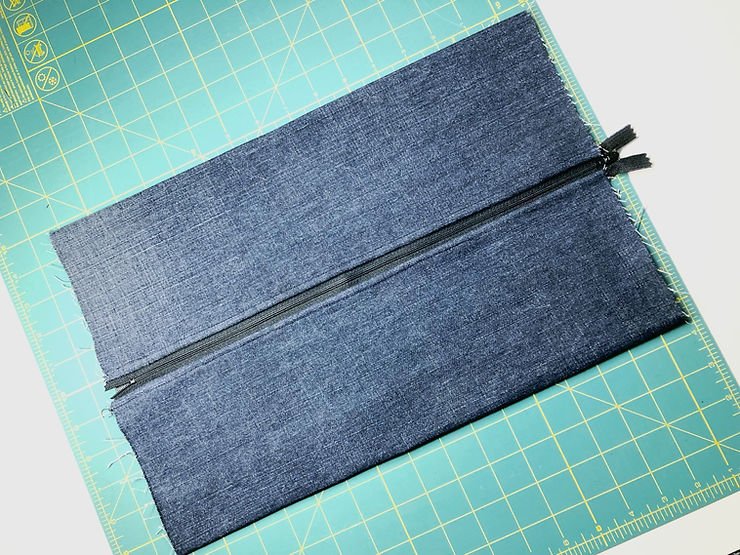 Repeat with the opposite edge of the fabric on the remaining edge of the zipper tape; Zipper facing up, right side of the denim to the zipper, folded edge to the edge of the zipper tape. Sew the length of the zipper, press back and top stitch. Top stitching will be a little tricky this time but just take it slow and you can do it. Press. You now have a tube with a zipper.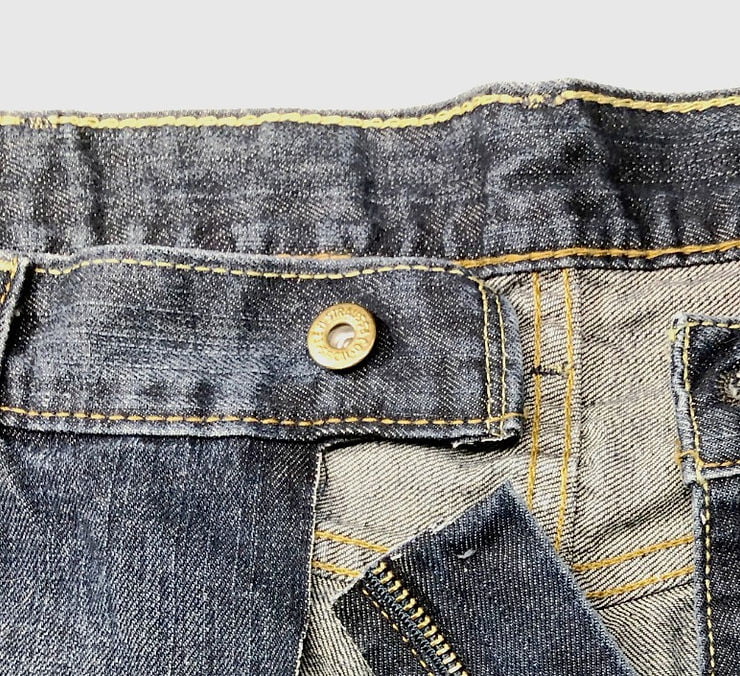 Cut off the band of the jeans with button to use as a strap. Cut the denim as close to the seam on the band as possible, this means you will have to snip in between the teeth of a metal zipper. Scary, I know. It's okay though! Go slow, take a deep breath and pray to the sewing gods as your blades pass between the teeth.
I cut it off at the first belt loop.
Note: I decided that I wanted the zipper to be centered on the top of the dopp kit, this took the seam from the jeans and placed is just off center at the back. I didn't realize when I made this choice that by not nesting the jeans seam right in line with the zipper, I would be creating some serious bulk to sew over and in the finished product the Levi's seam would look slightly cockeyed.
You make your choice, see what works best for you and bothers you less, honestly.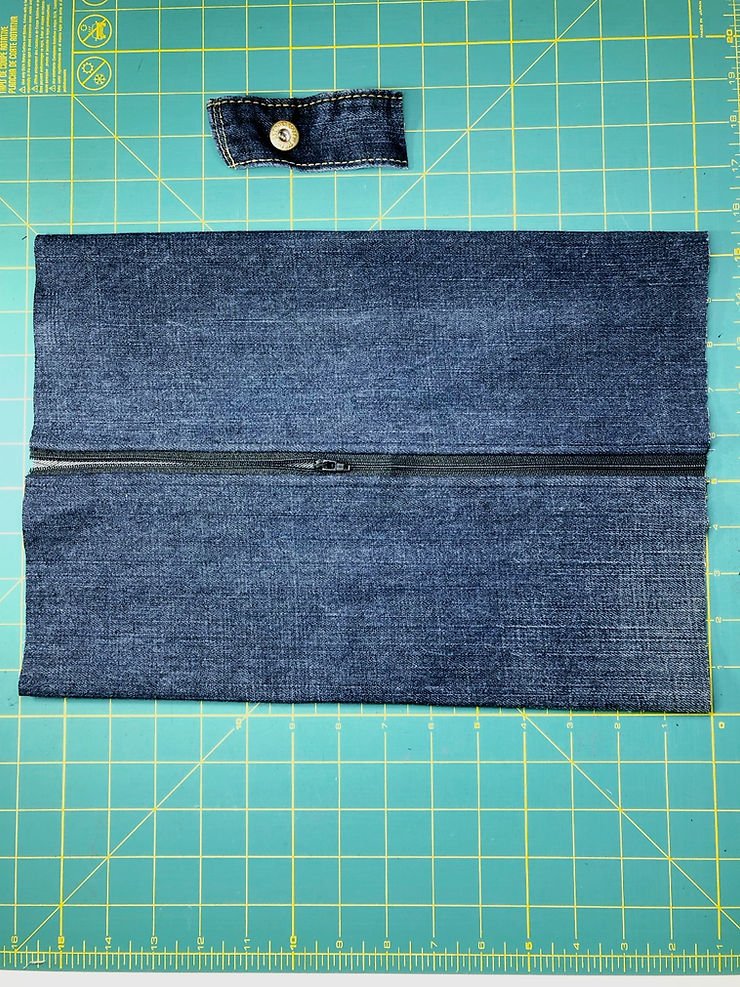 At this moment I realized I have to make french seams and the zipper stops could get right in the way. To remedy this I just cut them off, plain and simple, which had the added bonus of evening up my sides (I love to trim things to size). How much you cut off is up to you, I cut just enough so the pulls were gone and everything could be even and straight.
WARNING: Make sure your zipper pull is in the center of the zipper so you don't cut it off your tape. From here on out you have NO STOPS so please be careful when you open and close your zipper. Sending your pull all the way off your tape is fixable but oh so annoying.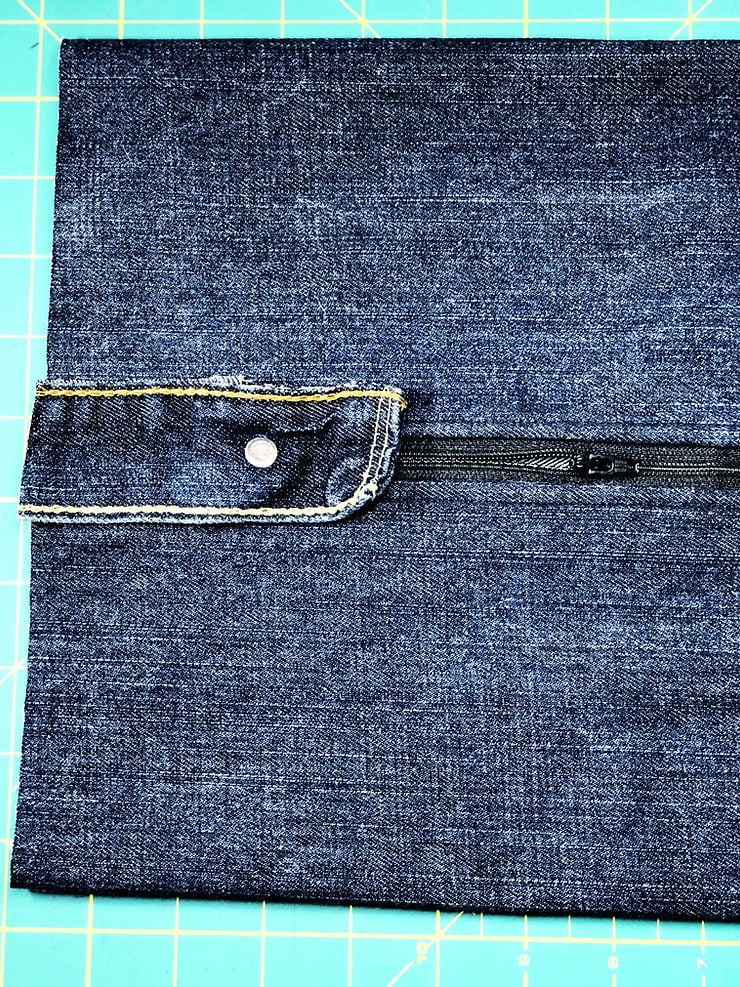 With your zipper pull still down half way, lay your new strap (face down) at the "top" of your zipper (the end where the pull is when it is closed). Stitch your strap in place with a 1/4″ seam allowance.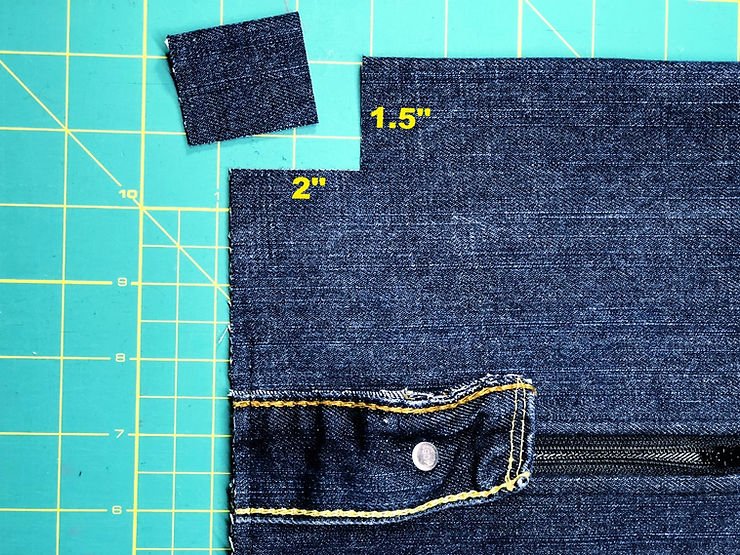 Cut a rectangle that is 2″ x 1.5″, from each of your corners. This is how we will box the corners later.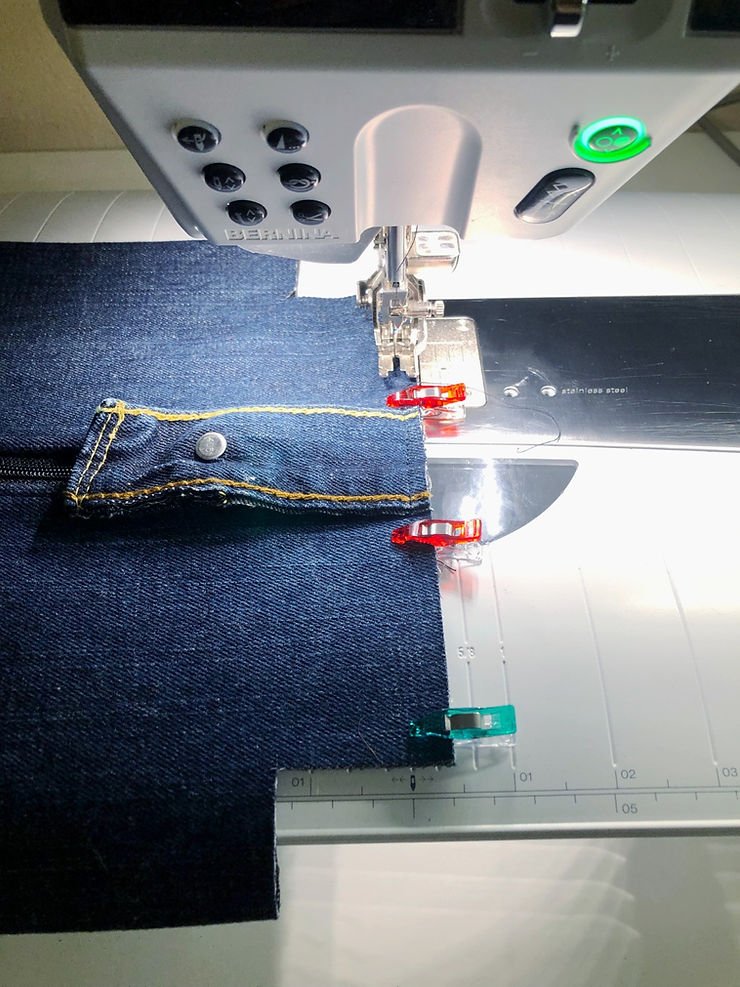 With the right sides facing you and using wonderclips to keep everything neat, sew the length of the seam on both sides with a 1/4″ seam allowance. Take it slow. This is where things start to get really thick and bulky and it only gets more intense on the next set of seams.
Trim the seams to 1/8″ and turn the bag inside out. Press the seams.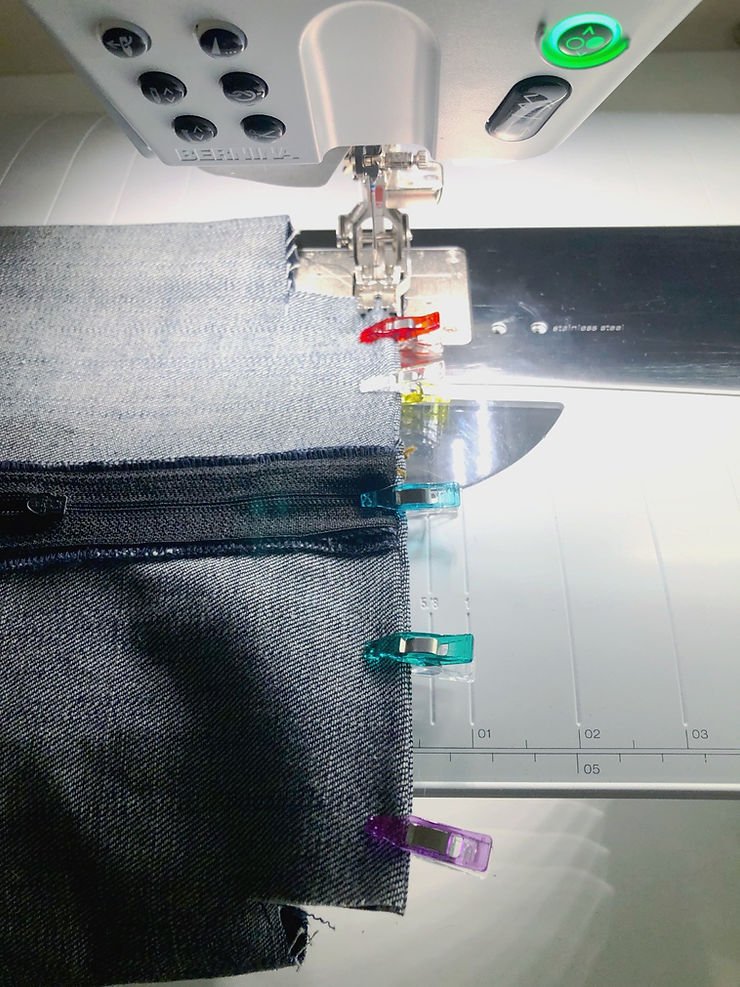 Clip the seams so they don't get away from you and sew another 1/4″ seam allowance on both sides. This creates your french seams and is also where you will go through as many as 12 layers of denim…and a zipper. Just take it slow, don't push or pull your machine. Remember, if you prefer, you can finish your inside seams with an overlock and not make french seams.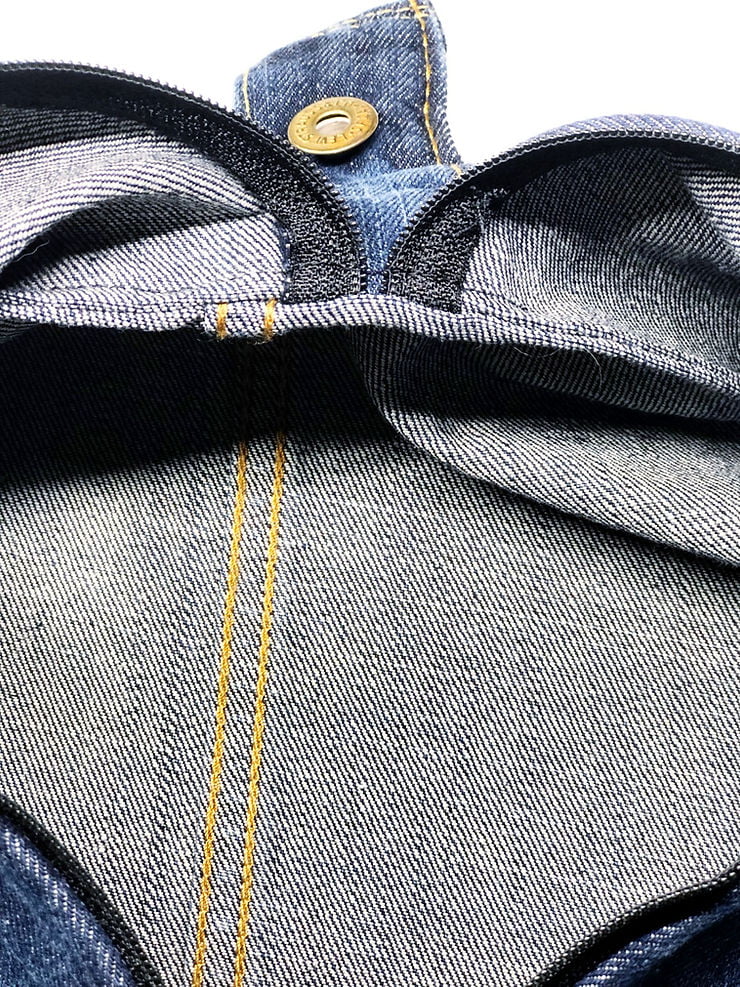 Flip the bag right side out.
Your first gorgeous set of french seams are done. This is where I started to get excited cause I realized this bag was gonna look great! (yes, I was still slightly skeptical until now)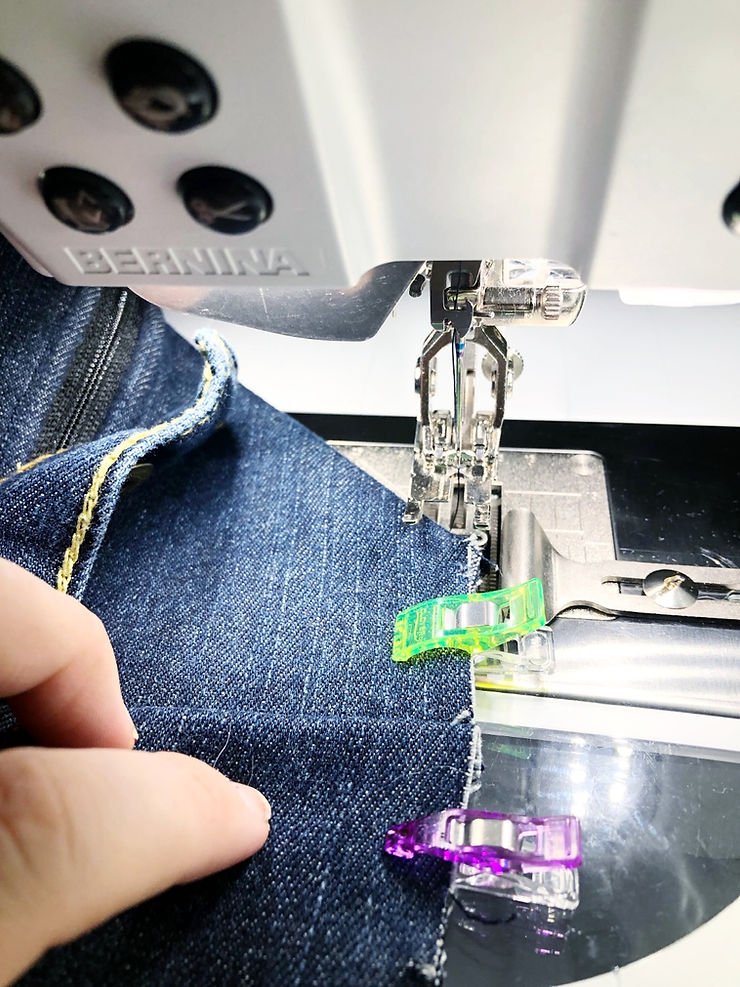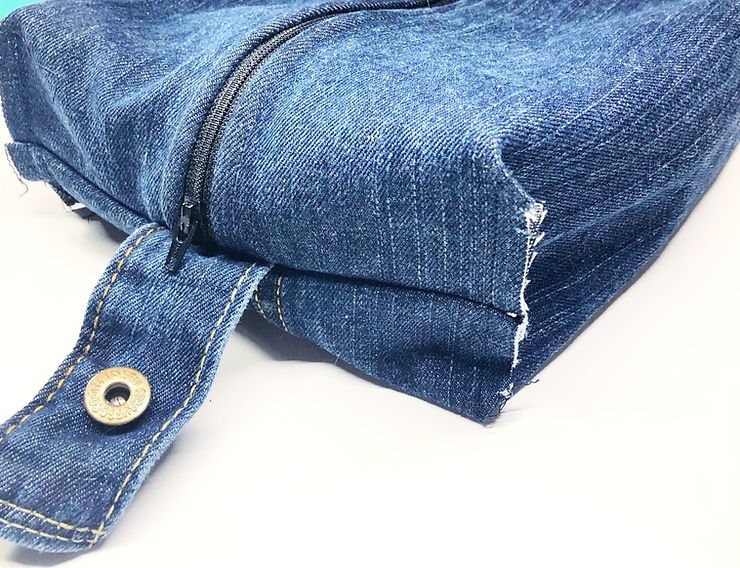 Make your box corners by aligning the seam we just made with the center of the side of the bag; essentially taking that rectangle we cut out and making it a flat edge that runs parallel to the zipper. I used a 3/8″ seam allowance because my cutting at the corners was a little too willy nilly and I needed to amend some mistakes. You may use 1/4″ if you actually cut your corners like an adult (unlike me). Repeat on all corners.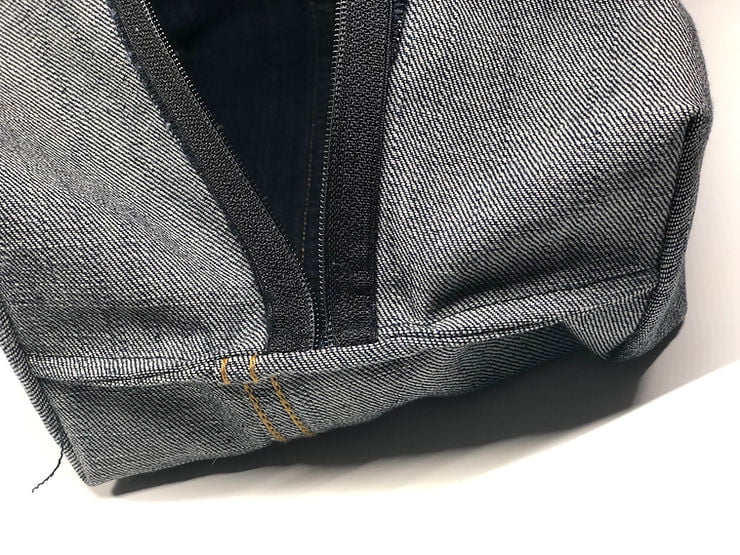 Trim the seam down to 1/4″ if you made a 3/8″ seam allowance and down to 1/8″ if you made a 1/4″ seam allowance. Turn the bag inside out, press the seams.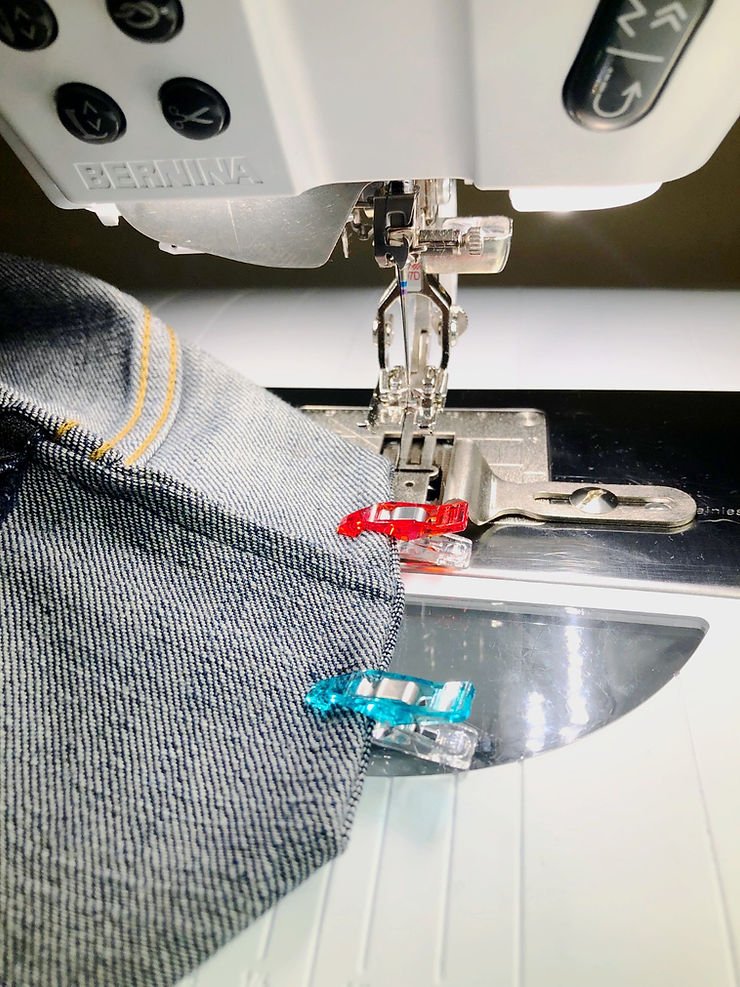 Clip the seams so they don't get away from you and sew the seam along all of your boxed corners for a second time, creating your french seam.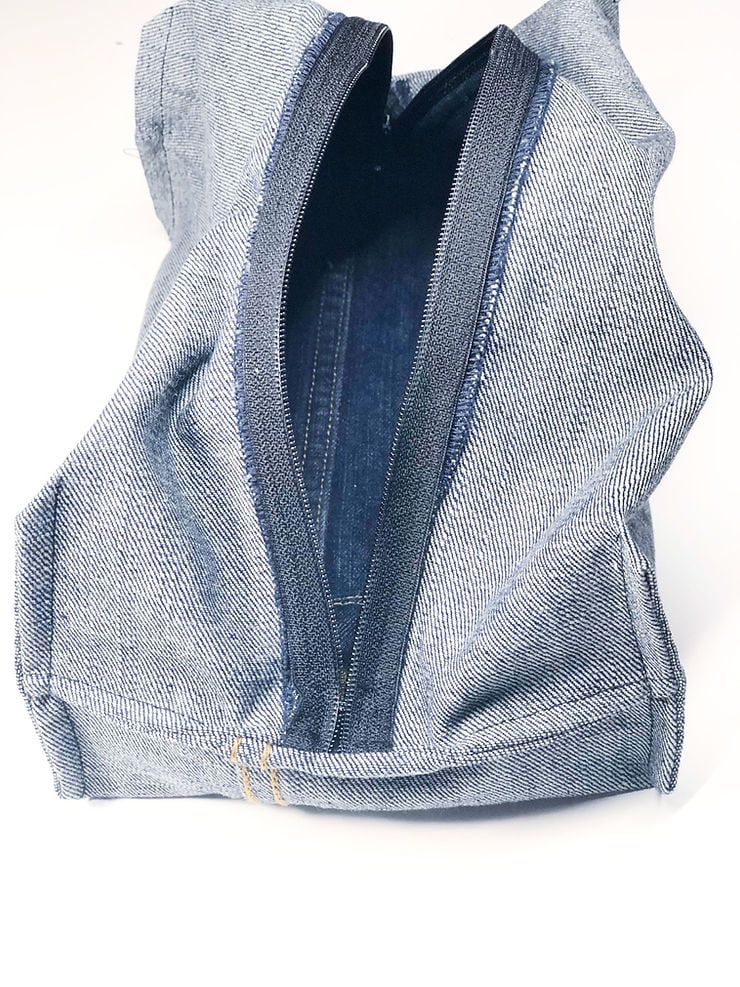 Trim all your access threads. Press once more for good measure and flip right side out.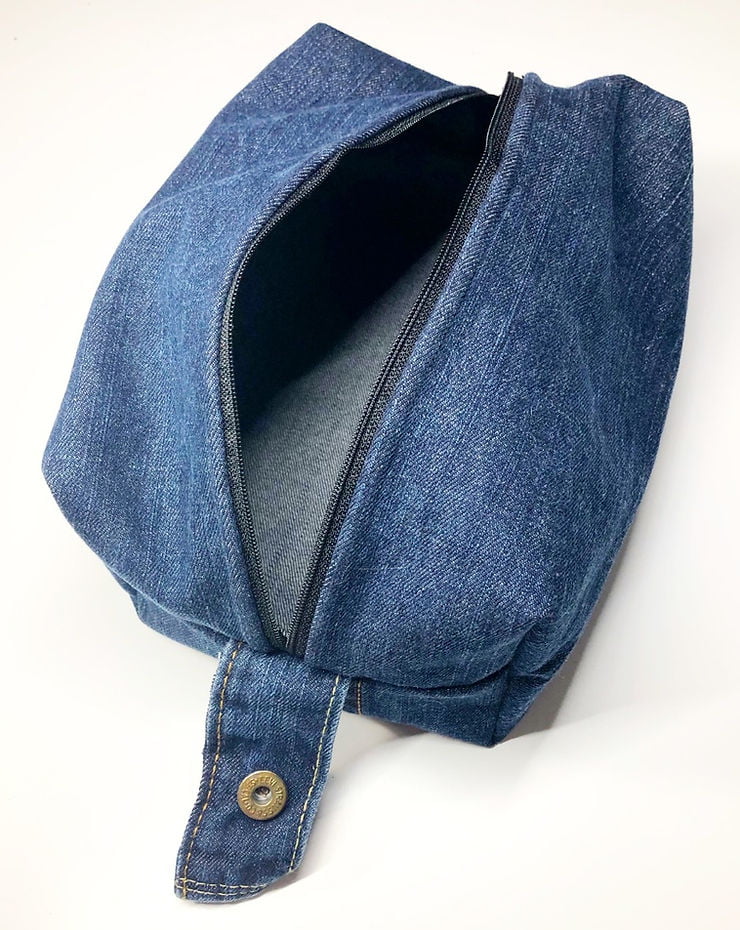 There it is! Your Upcycled Denim Dopp.
Pretty cute isn't it? I think there is a million ways to customize these.
I think I am going to make a monogrammed patch for mine to make the gift even more personalized and stylish.
Whatcha think?
Ready to make your own Denim Dopp? How will you personalize yours?
What other upcycles have you done with denim jeans?
XOXO Kate