Updated: Sep 14, 2020
When I started working at the quilt shop I immediately fell in love with the long arm machines and quilting. I like to piece but the quilting is my favorite part!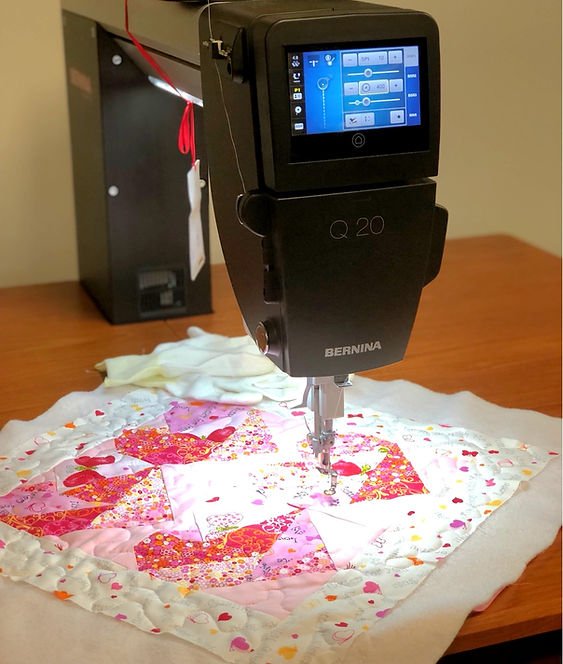 While I took to long arm quilting with ease, I didn't have quite that same natural talent for free motion quilting on a domestic sewing machine or sit down long arm. This is something I am finally pledging to work on for real but more about that in a little bit.
Even though the mechanics of long arm quilting and free motion quilting can be very different there are still a lot of the same mistakes that can be made.
I know because I have not only made these three mistakes repeatedly but I have watched others make the same mistakes over and over again and completely frustrate themselves doing it.
So let's do this! Let's get you and me and all of us out of the weeds on FMQ so we can stop making these 3 silly free motion quilting mistakes and start being the quilting rock stars we know we can be.
Post contains affiliate links. When you make purchases from the links in this post I make a small portion of the sale, which keeps Tough Kitten Crafts running and keeps new projects hitting the blog! Thank you so much for doing your purchasing through my links and supporting TKC. -Kate
Diving in without a quilting plan
I fly by the seat of my pants. That's how I roll on everything; I get a wild whim and off I go. When I have finished piecing a quilt, pillow, table runner, whatever it may be, I get SO EXCITED to move on to the next step that just…do it. Before I know it I am quilting my project with the ONE idea I had and as soon as that motif is done my indecisive butt is sitting there completely lost as to where to go now. This is usually when I start texting HollyAnne Knight from String and Story and saying "Do you think I should do this or this? I like this idea…" HollyAnne always asks me what I had on my quilting plan. Well. Crap. I didn't take the time to do one soooo…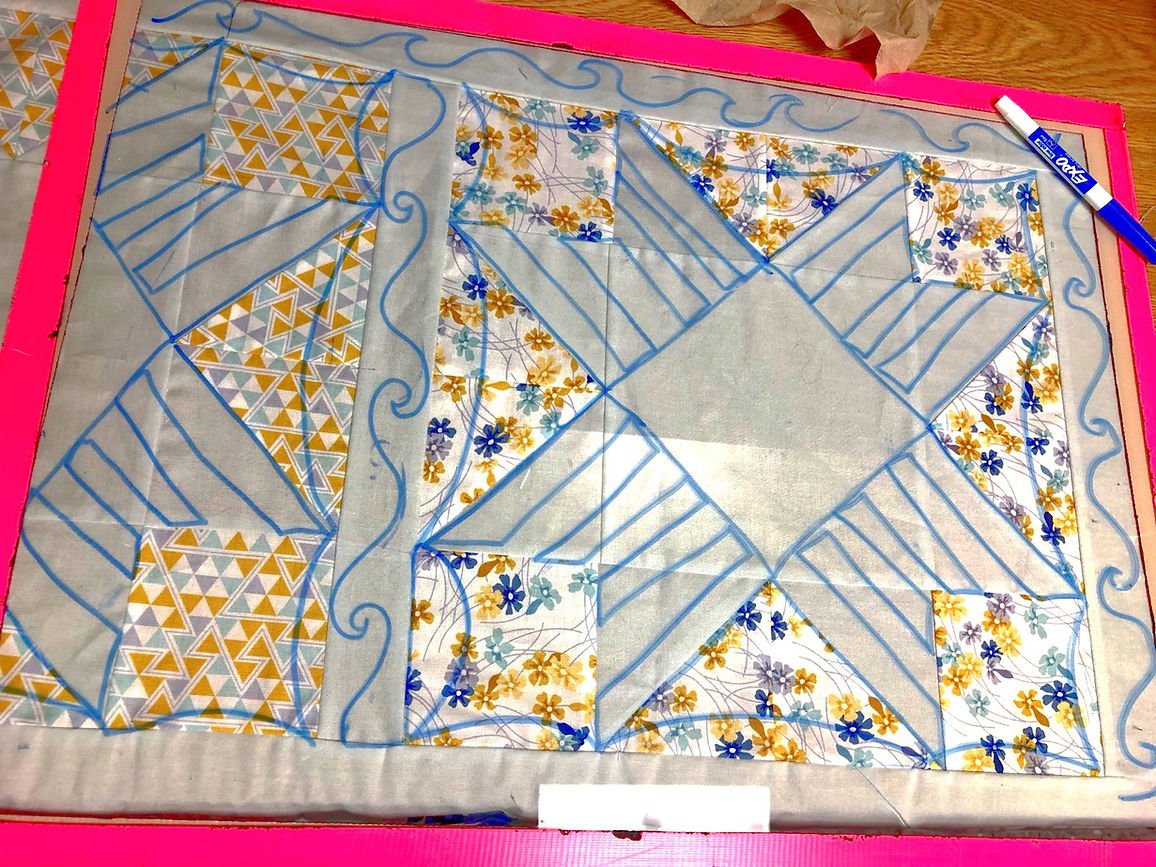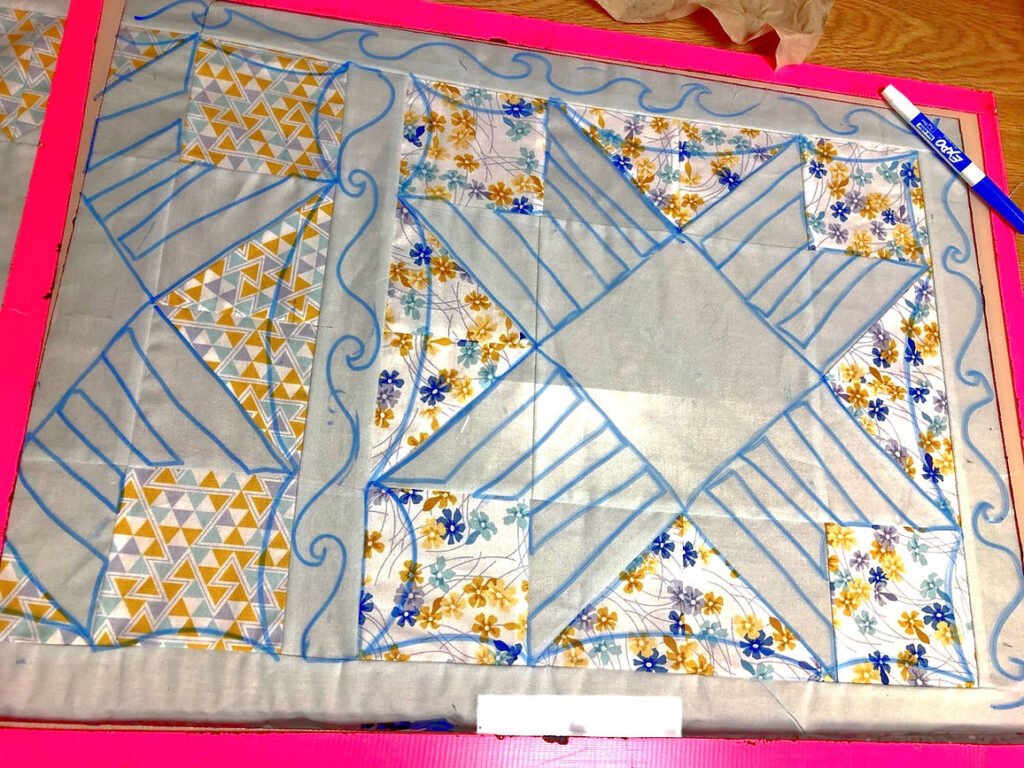 A piece of plexiglass with duct tape around the edges allows you audition quilt designs directly on your quilt
The Fix Take the time to make yourself a quilting plan!
It will save you time, mental anguish and help you stay on task with the fun part…actually getting to quilt! When you set aside time to hash out where you want to put which designs you free yourself up to truly focus on the fun of quilting, since the mental work of planning has already been done. You maybe even make a couple plans to audition different motifs in different positions, to appease your own indecisive nature.
You Get Halfway Through the Quilt and Realize the Tension is B A D
As you move your quilt, the backing hits your legs and you feel a scratchy feeling.
Or maybe the quilt flips a little and some "railroad tracks" catch your eye. Maybe you are checking the back of your quilt just to peek in a make sure your stitch tension is still perfect..but oh crap…it's not, it's bad, really bad. We have all had the "Oh crap" tension moment which is then followed by the "Do I really have to pick all of this out?" moment. I have picked many a quilt rows on my own quilts, as well as customer quilts, to ensure tension was perfect throughout the whole project. Every time I do I curse myself, the thread, the project but I know I could have avoided the whole problem with some vigilance.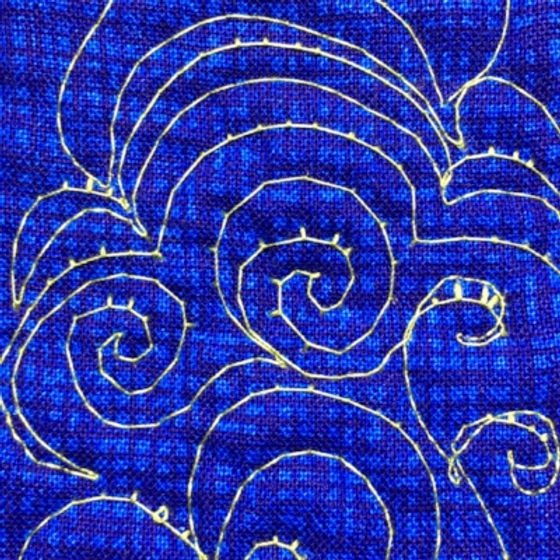 Borrowed this great example of bad tension from HollyAnne over at String and Story
The Fix
Know what good tension looks like and check it often! First, it's incredibly important to know what good tension looks like and how to diagnose bad tension. You have to know what you are looking at (what does bad tension actually look like?) and what it means to you: should you tighten or loosen your top tension to fix the issue you are seeing? Once you know what you are looking at and how to fix it, you have to remember to check it! Start off by getting your tension perfect then periodically double check that all is still going well, making a point to check with each new bobbin. New bobbins are the most likely time for things to go wrong with your tension.
Expecting Perfection Without Practicing
Alright. I know I'm NOT the only guilty party here. My BIGGEST and most frequent FMQ mistake is expecting to be really good at free motion quilting while literally never putting any effort into learning and practicing this skill.
Darn it.
It's hard for me cause I took to long arm quilting SO QUICKLY so for me having to put ANY effort at all into my FMQ means I get bummed and don't do it…but then still compare my work to awesome free motion quilters who have taken the time to hone their skills. Bad form, Kate.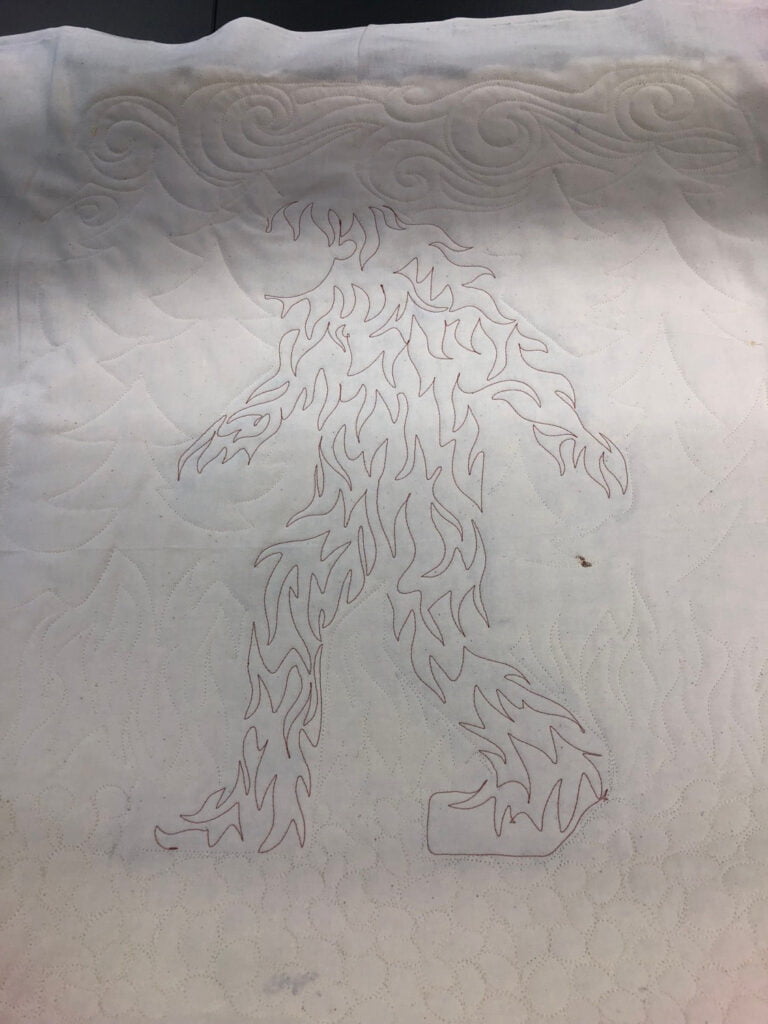 Backside of a bigfoot pillow I quilted
The Fix:
You need to keep in mind all of the above points, practice on a regular schedule and be willing to expand on your skills often! The cherry on top is being able to do this at home while still being in a supportive community with friends who are learning too. This is exactly why I am gonna join this cohort of Free Motion Academy from HollyAnne Knight of String and Story and I want you to come learn along side me!
HollyAnne and I have been friends for two years now and I have watched her help so many quilters learn "how to quilt with confidence" (which happens to be String and Story's perfect tag line) in her supportive and enthusiastic online community. I kept saying "I'm gonna join your class!" or "I knowwwwww…I need to practice!" or "Man, I really need to set aside time to learn to free motion quilt"
So, here we are everyone!
I am shouting my intentions to the world and I am really hoping you'll join me and many others as we all go through Free Motion Quilting Academy!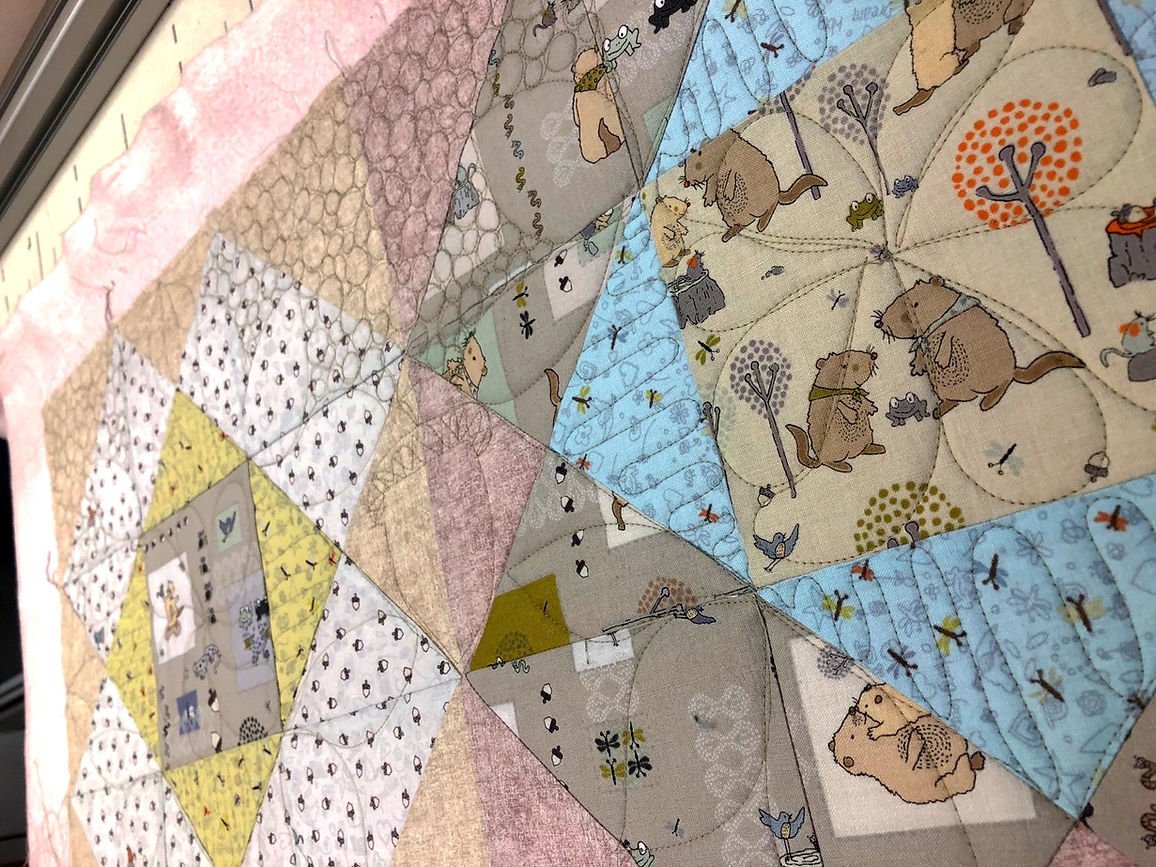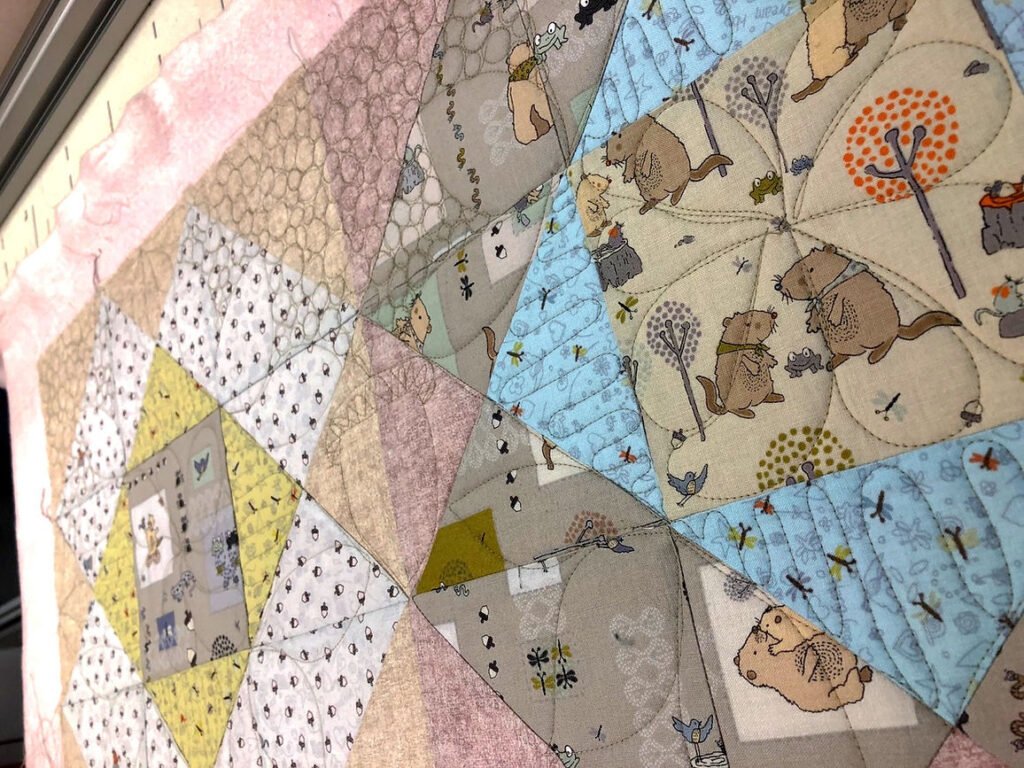 You will learn not only how to make a quilting plan, how to check the tension on your stitches and get lots of practice on a wide range of motifs, but you will also learn quilt basting tips, how to mark your quilt and much more!
I'm gonna be there right along side you learning in the course and chatting along in the Free Motion Quilting Academy exclusive FB Group. HollyAnne will even do weekly live videos so you can ask your questions and get help in real time.
If you are excited about joining Free Motion Quilting Academy you can sign up for more info right here.
I can't wait to see you in FMQ Academy!
xoxo Kate