Improper hooping is the number one issue I see in machine embroidery and hey, who knows there may even be a better way for you to be embroidering! That's right…not everything has to be hooped in the same way and some projects even require these alternative hooping methods.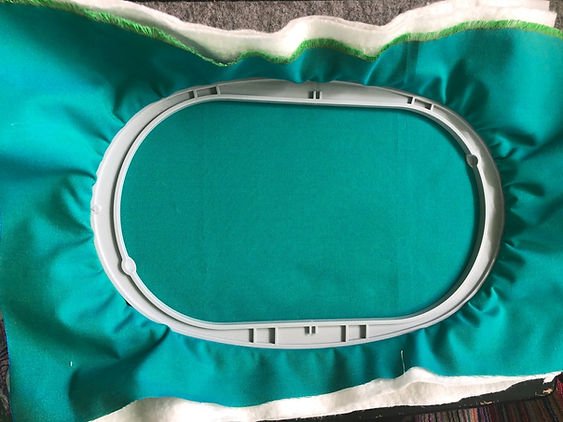 Standard Hooping
"Standard Hooping" is what I call it when you hoop your fabric and stabilizer in the hoop together. In order for this hooping to work you need pieces of stabilizer and fabric that are not only as big as your hoop but that have at least 2″ extra around the whole hoop (of both fabric and stabilizer).
This technique works with any stabilizer.
Pros:
-Most reliable way to get correct tension on the stabilizer and fabric
-Least likely to have issues
Cons:
-Takes up extra stabilizer and fabric
-The hoop can damage delicate fabrics
-Doesn't work well (or at all) for napkin corners or thick material
Hooping Tip:
-Get your fabric and stabilizer to work together as one piece via fusible stabilizer or spray baste between your layers. By fusing or spray basting the two together you can minimize bubbling or rippling and all together make hooping easier.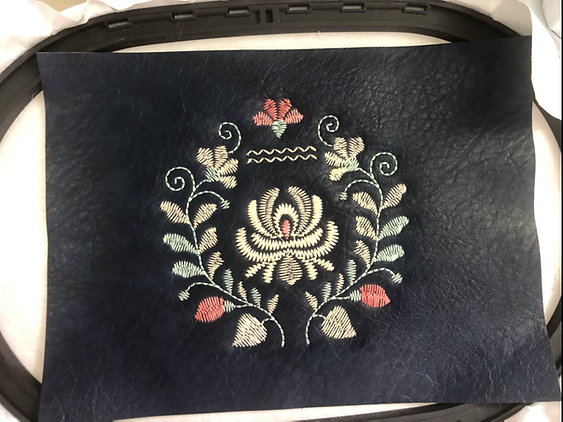 Floating on Top of the Hoop
When you have a small piece of fabric, a napkin corner or thick materials (like cork or leather) floating your fabric on top of the hooped stabilizer is the best way to go!
I will often do this even if I have plenty of fabric/stabilizer as it's a very easy way to get something embroidered quick.
For best results use a sticky stabilizer (this is what they are meant for!), but you can also you any stabilizer you have on hand + spray baste.
Pros:
-Fast!
-Can save fabric and even save stabilizer (Check the patching technique below!)
-Makes hooping "hard to hoop items" a no-brainer
Cons:
-Things can shift.
-May need to center or place a design carefully
Hooping Tip:
-Whenever possible use a basting stitch around your design. Now this is true for all embroidery but it's particularly important when floating your fabric so things don't shift, fold over themselves, etc.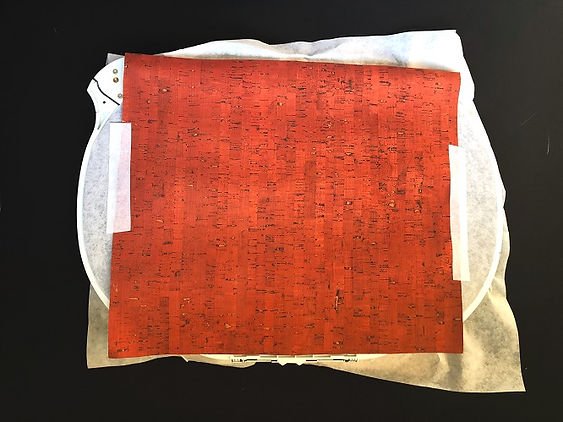 Floating Beneath the Hoop
Yes. You heard me and no it's not some Criss Angel 'Mindfreak' type levitation. In this technique you will actually tape stabilizer or fabric to the bottom of your hoop! I have used this technique to add some extra stabilization (It has saved my butt a time or two!) or to add fabric to the back of a design to enclose the stitches (like in my cork coasters on We All Sew).
You can do this with any fabric or stabilizer, provided it's not too thick and can slide under the hoop without being an issue (example: Cork, cotton, cutaway stabilizer are all a "yes" but terry cloth towels could be wayyyyy too thick)
Pros:
-Helps you add a backing to a design
-Can add stabilizer if you suddenly realize you under stabilized
Cons:
-Be very careful that your fabric/stabilizer doesn't fold over itself underneath!
-Not a substitute for hooping your stabilizer or fabric, just an additional boost to your hooping.
Hooping Tip:
You can use whatever tape you have around but there are tapes made specifically for embroidery. You can try the tear away or wash away tapes based on your project.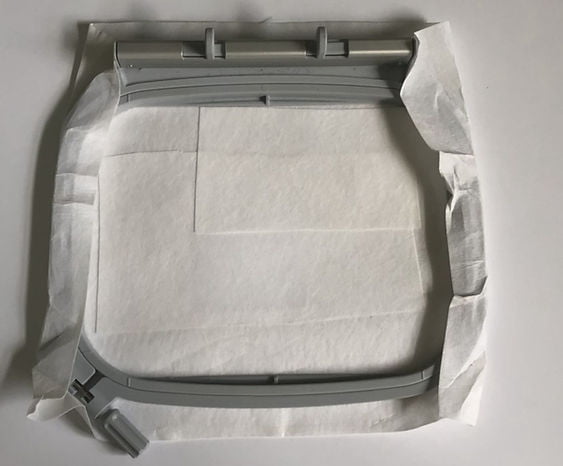 Patching
Paper backed sticky stabilizer is a favorite among machine embroiderers not only because it's fast and easy, but it also because it can help you save money! When you float an object on top of the sticky stabilizer you can just cut out the area that was stitched and then replace that hole in the stabilizer with a patch of sticky stabilizer. Keep patching until the tension is effected, the stabilizer gets too thick in some spots or your stabilizer is no longer sticky.
Pros:
-Saves money on stabilizer
-Saves time when embroidering multiple items
Cons:
-Only works with sticky stabilizer
-Could cause tension issues if you don't get it patched/hooped correctly
Hooping Tip:
This only works with sticky stabilizer, trust me, I have tried other types of stabilizer plus spray baste and it's a no go. You can reuse the stabilizer over and over until the stick is gone or your tension starts to be affected, which will vary per project.
Want more info?
I did a live class on this inside my Facebook group!
You will have to join the Tough Kitten Crafts FB Group to watch the video.
I go live weekly, host Machine embroider-a-longs and the community is supportive and wonderful so…it's a great group to join and we'd love to have you. https://www.facebook.com/toughkittencrafts/videos/1029259020878745