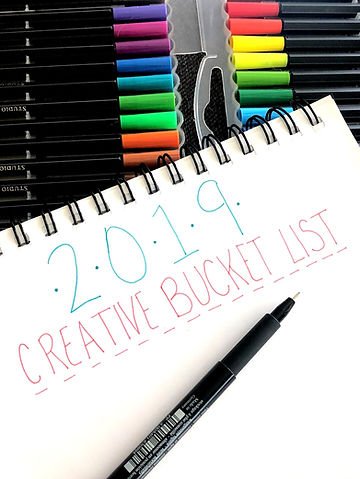 I hope you had a wonderful holiday season and that your new year is starting off beautifully.
I had a fantastic Christmas, even though I caught a bug that I fought off well into the beginning of the year. I spent New Year's Eve on the couch, sleeping it off and drinking plenty of fluids (as I write this, I'm still ready for a water and a nap)
I don't really know how I feel about resolutions. I feel like they have become so cliche that it's almost mandatory to make one and ignore it, every year. It's basically scheduling yourself to be disappointed in you a couple months later.
Who has time for that?
I do love choosing a word for the year and keeping focused on it.
My word for 2019 is BUILD.
I am building a home, a family, not one but THREE businesses, a community, my wealth…. as you can see BUILD works perfect for my plans this year!
There is an upcoming podcast episode about choosing YOUR word for the year, if you need help.
If you didn't know already, I have a podcast for creative business owner's to help them up their motivation, inspiration and know how, in an inclusive community. One of my favorite things about the Creative Women's League is that they always keep me honest and keep me striving to be better and do better.
You all on Tough Kitten Crafts do the same thing! You keep me thinking creatively, making exciting things and constantly wanting to become a more skilled and knowledgeable maker.
You will also hold me accountable to this list of awesome creative endeavors I keep promising myself I will do, but never pony up.
I am so excited about this list, which is the main reason it ain't like resolutions.
(Resolutions always feel like a death march don't they?)
I will go back to these over the course of the year and check in on my progress with you and show ya my makes as they happen!
I REALY hope you make one too (and share it with me!) and we can check off our progress together.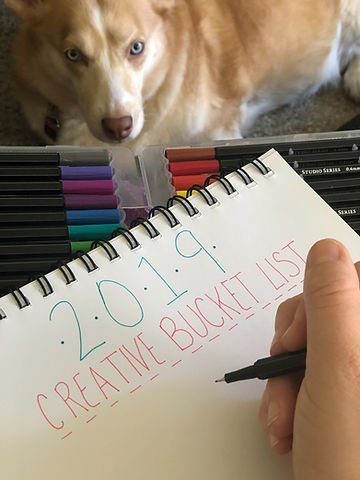 Look at Arya judging me in the background
2019 Creative Bucket List
(In no particular order)
-Sew at least three items of clothing
-Embroider more (Finally do that cardigan!)
-Sew my curtains for bedroom, back door and sewing room.
-Finally make a quilt for myself
-Get more practice with my freemotion quilting
-Finally sew curves
-Use three patterns I have in my "to make" pile
-Grow at least one plant for eating
-Bake more (particularly those shortbread cookies you have wanted to perfect)
-Start an herb garden
-Grow my plant family
-Decorate house so it feels homey
-Get backyard lighting/seating ready
-Start Halloween/Christmas crafting early enough that I can actually get some awesome things made.
-Don't leave fall BERNINA Event Team sewing to last minute
Whatcha think?
What does yours look like?
I even had Brad come up with a few ideas for his 2019 Bucket List!
I'm super excited to start crossing them off.
What does your 2019 Creative Bucket List look like? Have you made yours yet?
I would LOVE it if you shared yours in the comments or on your IG!
If enough of us start maybe we can start a hashtag for our creative bucket lists.
Can't wait to see yours.
xoxo Kate