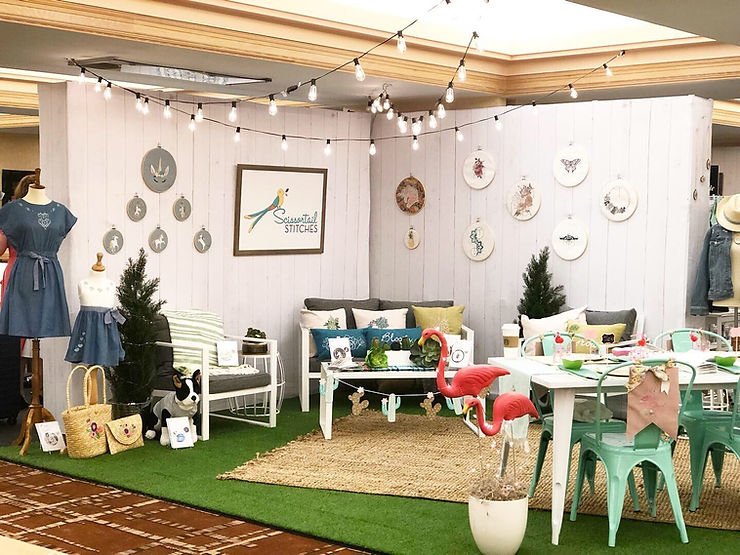 Tell me you don't just wanna live here
Have you ever been lucky enough to be right at the start of something pretty cool? I happened into that position recently and I cannot believe the absolute perfect timing of the Universe that allowed me to be privy to Scissortail Stitches and it's beginnings.
As a Florida Lady I have to say…This is the PERFECT table setting
The quick background is this: I emailed Jordan at OESD to ask for some stabilizer for the Freestanding Lace Butterflies I was making for Sariditty's fabric launch. You remember those right? I shared about them on my Instagram! At the time I asked if OESD had brand ambassadors or if they would consider it because I would love to help create projects and content for OESD. This is when he put me in contact with Karie telling me that they had a new project they were very excited about and they would love if I was "involved creating content and being a part of this project" Okay. Interest more than piqued! When I learned that OESD was coming out with a sister brand, Scissortail Stitches, and they would be gracious enough to let me help in the launch, I was ecstatic! My favorite company launching MORE modern collections, and asking my thoughts about it!? What?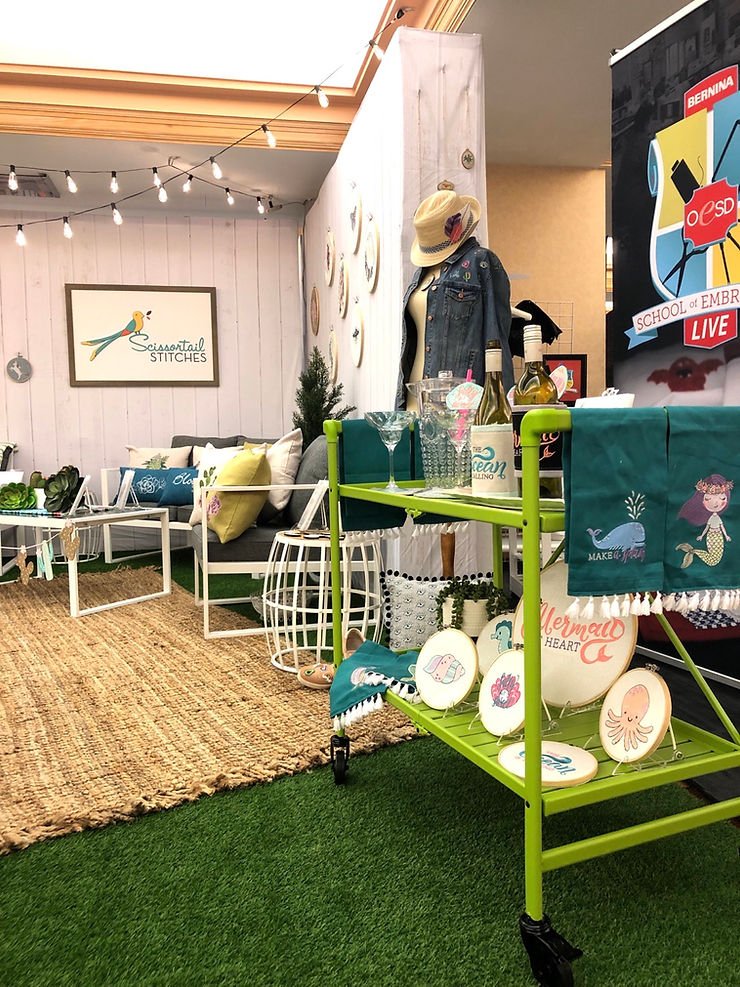 The girl who lives in this space is way cooler than most of us. No. Doubt.
Oh. I'm sorry. Are you thinking so what? Are you wondering who the hell OESD is anyway and why would you be so excited about a new brand?
OESD, founded in Oklahoma, has been around for over 25 years and are the leaders in high quality machine embroidery designs and supplies. I have yet to have an OESD design do something weird, be digitized in a funny way or stitch out as anything less than beautiful. I would find hip or cool designs from other companies and almost every time I would have issues stitching those out…heartbreaking when you're excited to get a project done and have spent money on something! Despite my wanting more skulls or kitschy designs or trendy free standing lace, I stopped risking the heartache and stopped buying designs online from other big companies.
I would stick with OESD from here on out.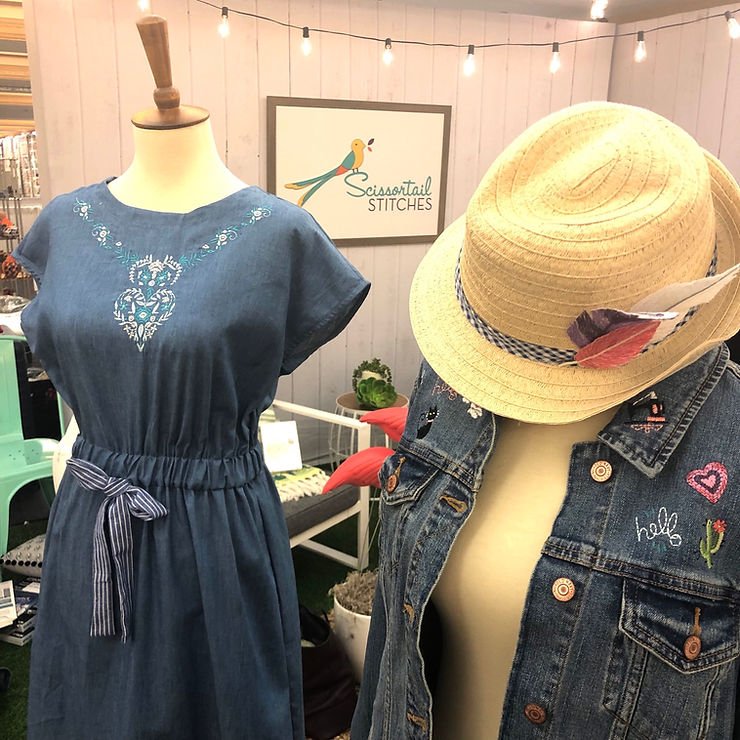 My goal? To see more people personalize their wardrobe with embroidery!
And OESD does have gorgeous collections from Tula Pink, Alison Glass and even one of my favorite surface designers, Fluff…but I was looking for more. I think a lot of us were! And guess what? OESD knew that!
Enter Scissortail Stitches. Cue the cheers of modern sewists everwhere!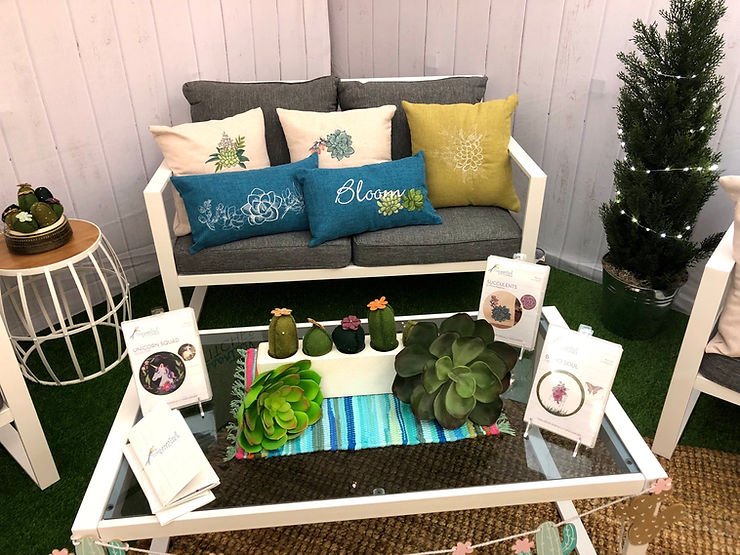 Scissortail is named after the state bird of Oklahoma as an adorable nod to it's OESD and Oklahoma roots. Scissortail Stitches was created to help expand OESD's library of quality designs to a new audience, something Scissortail has already been wildly successful in doing. Their fun, trendy and modern designs are so damn cute already, I cannot wait to see what they are going to be coming out with next! After talking to Jordan at BERNINA University and hearing their release schedule, I am so excited to know that they truly intend to keep their modern brand fresh, well stocked and are already planning even more big and exciting things for it. Scissortail is a sister company, but unlike some other companies with cool little sister brands, Scissortail won't feel like an after thought and that's something I am incredibly excited about!
So by now you are understanding how exciting it was when Karie emailed back and said she would love to talk Scissortail Stitches with me. Not only that but she would be happy to have me help work on their big reveal: Their booth at BERNINA University. I got to help come up with some ideas for the booth and create some samples for their mermaid bar cart.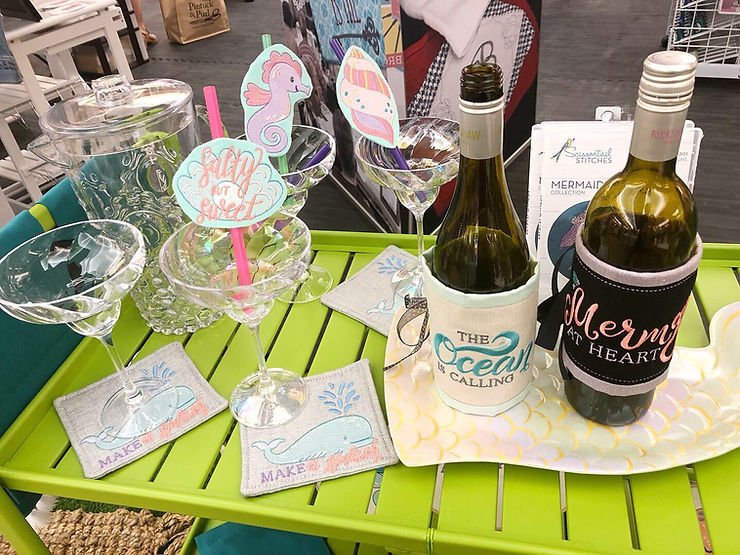 Straw toppers, coasters and bottle cozies, the samples I got to make for Scissortail
Being honest, I was super nervous.
I wanted to make sure it looked like I knew what the hell I was doing! I wanted Karie to love the samples because this booth was her baby and I overthought every step of the way. Sorry Karie. I love ya. The lesson I learned was calm the eff down and carry on. But anyway, that was just a quick aside. Be scared and do it anyway, the key to getting anything good done….I should also probably add "don't text Karie 1,000 times" to that.
Karie, Jordan and the whole OESD team were fantastic to work with! They made me feel like a rockstar for my couple samples I made and for helping for like ten minutes with booth set-up. They were so sweet they made me an unofficial part of their team. I tell you this to really drive home the point that when you are buying from and working with OESD you are supporting an amazing, upstanding, kind company and that means something to a lot of us.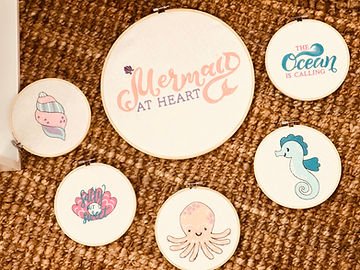 The booth was AMAZING. It truly stopped so many people dead in their tracks. I heard people all over BERNINA University talking about how cute the Scissortail Stitches booth was and how EXCITED they were for their collections. I was posting about the booth and about Scissortail and the reception online was just as warm and wonderful!
You will be seeing lots of projects from OESD and Scissortail on the blog, because I adore both companies so much.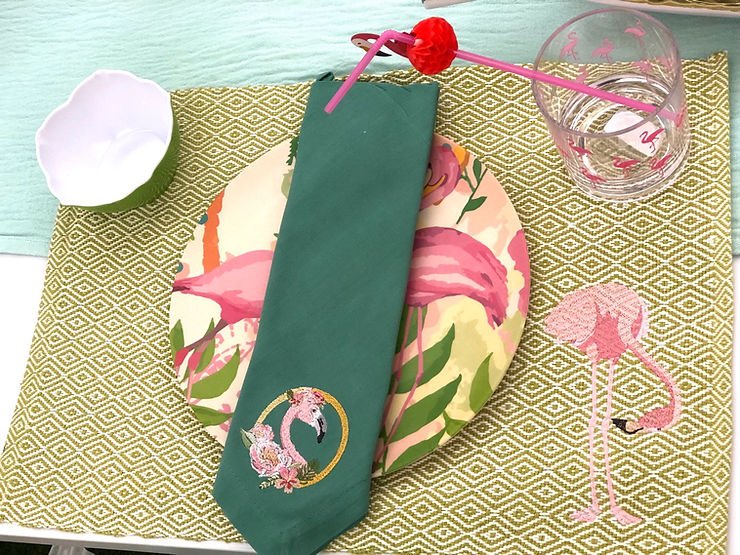 Embellishing pre-made items is a great way to customize your home in less time
If I have visited your store or if you have taken a class with me you know that I am on a constant mission to help people get started with machine embroidery and love the craft as much as I do. I am so thankful for OESD introducing Scissortail Stitches as a wonderful way for modern sewists to start using machine embroiderers to embellish their projects.
Visit Scissortail Stitches here.
Visit OESD here.
Have any questions about Scissortail Stitches or OESD?
Curious how to get started with machine emboirdery?
What kind of embroidery projects would you like to make?
Comment below and let me know what's on your mind!
xoxo Kate