Updated: Jan 15, 2020
Please bookmark this page to refer to it at a later date. It will be periodically updated to reflect the most current items I use, tutorials I have created and resources I recommend.
Last Updated: January 7, 2020
First off and most importantly: this topic is near and dear to my heart and it's one I have spent many hours researching but this is a judgement free zone. We are all at different points in our eco-friendly/sustainable/zero waste journey and each of our journeys will look different. If you have any questions or just need someone to chat about your options with, I am here for you free of judgement. I believe wholeheartedly in the idea that "We don't need a handful of people doing zero waste perfectly. We need millions of people doing it imperfectly." I invite you to join me in being imperfect while we make self aware, personal and impactful changes for ourselves and our planet.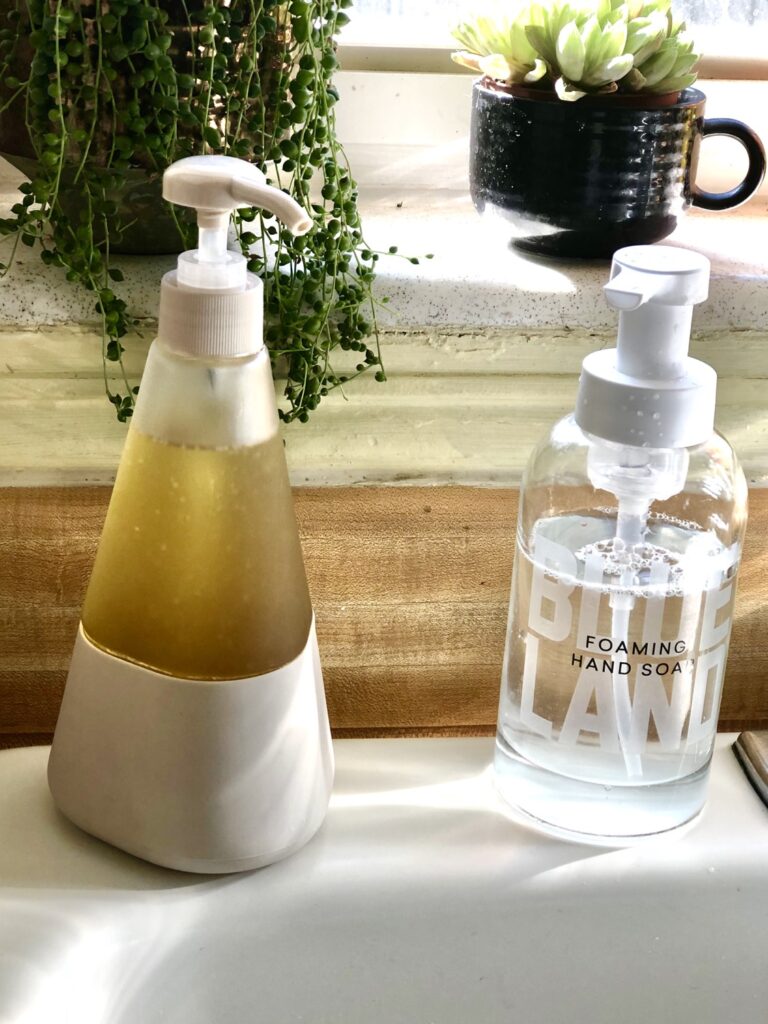 cleancult and Blueland sitting happily in my home
So…can you be zero waste? Nope! You can't. Whew, that's a relief! Perfection is off the table! This is a sticking point for some people who write off the zero waste whole movement because of the semantics of "being zero waste" and that not being possible. Zero waste is a lifestyle in which we aim to send nothing to the landfill and focus on being mindful of the impact our purchases make on the planet and not about literally making no waste (which is impossible with our linear economy) All your garbage does NOT have to fit in a jar for your efforts to be valid. Despite what some very grumpy and/or cynical people might say…it DOES make a difference that you stopped using plastic straws and plastic produce bags, quite frankly, I'm proud of you. It's important to change our daily habits while doing our part to change policy via voting, demonstrating and calling our local leaders to let them know that sustainability, green products and our environment matter to us! It is all important and it all counts in our efforts to help our planet. And yeah…I know the waitress gave you a straw last week or you forgot to tell her to skip the straw or maybe your lack of straw felt dumb because you had a Starbucks cup, anyway…that's okay too. Remember perfection is off the table and it's a journey…it takes time.
I'm doing it imperfectly with you.
Next order of business is a bummer, I know, but I have to put it out there.
While ordering online may be necessary for some of these items, it's best to buy local and skip online deliveries as much as you can. I know I know I know! The convenience of online shopping and the joy of a package on your door has been one we have come to LOVE but the carbon footprint on the deliveries is HUGE, exponentially so if they are a frequent occurrence. Whenever possible it is best to buy local: produce, meat, toilet paper, second hand clothes, etc. Even if the goods were not produced locally, our stores have already created the carbon footprint of having it shipped to them so buying the items that have already been sent to our town and stocked on shelves, definitely helps. And I know we all know that shopping small is best, yes? Okay. Perfect.
Many of us do not have local refill shops or a retail that has good options for us so we have to turn to the internet, in those cases it's best if you can use a site that focuses on sustainability and will send your items with non-plastic packaging. Below I have included a number of subscriptions I use so that I may avoid plastic packaging and support companies I respect; How I keep the footprint low on these subscriptions is to buy in large amounts, less frequently and to make my online purchases from companies that are doing the work to to be eco friendly, sustainable and even offer carbon neural shipping.
Final note: I know you wanna toss out your whole house and buy new so the whole place is all bamboo, plastic free and sustainable BUT! The MOST eco-friendly thing you can do is use up everything you have until it's not longer viable and then make the switch to ecofriendly, sustainable replacements. Some things, you will suddenly realize, you don't actually need at all and others you will love, repair and appreciate for years to come before it finally kicks the bucket. Hence why I am still using plastic food containers…it's still good and to throw it out is more wasteful and worse for the environment than continuing to use it to store food. One day it will get replaced, but not today.
This is in no way a comprehensive list, this is just what I am using now and plan to use in the near future. There will be many more posts like this covering many more DIYs, up-cycles and various aspects of my low waste journey like composting and gardening. If you have any questions or requests for upcoming posts, please do not hesitate to ask I would love to help in any way possible.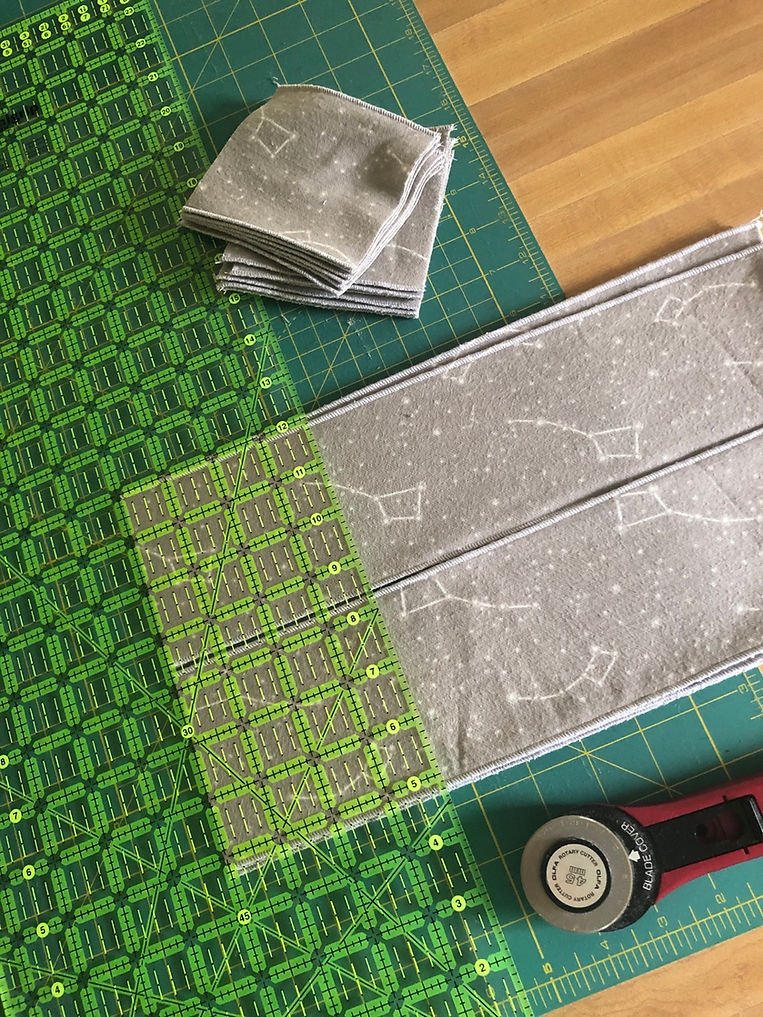 Check out my tutorial on making reusable cotton rounds
**Some of the links below are affiliate or referral links, this means that if you purchase from them using the link provided I will get a small amount off my next purchase through them. This is incredibly helpful to me I thank you for supporting me and Tough Kitten Crafts by shopping through my links. None of these business have given me their products free or at a discount to do these reviews and all of the reviews are honest and reflect my opinions alone. As of today, all affiliate/referral programs I am a part of are open to the public and are not special offerings to me from the company. Please feel free to email me with any questions about my affiliate links**
My Favorite Products:
Beauty & Bath
Shampoo & Body Wash
Plaine Products is my current favorite discovery and has saved me in an area I am the most nit picky: my hair. Through Plaine Products you get vegan, non toxic, salon quality shampoo and conditioner in aluminum bottles. I'm in love! My hair has felt amazing! You set your shipment dates, then when your bottles are empty you ship them back so that Plaine Products can clean, refill them and send them out. My only complaint? The smells. I'm not into lavender or mint…the basis of the two scent options. I chose lavender citrus and am thrilled I did because my sister got rosemary mint and it was S T R O N G. I like the lavender citrus smell just fine, I would just love more citrus and less lavender.
Hand Soap
My other favorite discovery is Blueland. I LOVE Blueland's soap. You buy the bottle once and then you get refills for $2!! Yes! $2!! You fill the bottle with water, plop in the corresponding refill tab and once it's all done dissolving, viola…you have your cleaners ready to go! I LOVE this foaming handwash and the biggest win? THE SCENTS! Blueland gets it that just because you are acting like a hippie doesn't mean you want to smell like one. Their agave iris scent is to die for and then even offered holiday scents for the first time last year! Every hand soap scent has been incredible and the soap has felt wonderful on our hands. I want to eventually use their cleaners as well, but try them at your own risk…the reviews are mixed.
Deodorant
Listen y'all. I am a sweaty, smelly mess. I just am! So I needed something that would work well for my stinky pits. I have tried many eco friendly deodorants and have found my fave in Meow Meow Tweet! I use the paste that you apply with your fingers but they also have cardboard tubes if the idea of the paste is too much for you. I like their baking soda free version, as I had a reaction to the version with baking soda. Best part? You may be able to find Meow Meow Tweet at your local Target!
Dental Floss
Out of all my zero waste changes, changing to Dental Lace Silk Floss was the easiest switch. It feels like "normal" dental floss but the floss and the packaging both can go right into the compost and the glass container is fantastic. When you're ready, just get some refills and you're all set. Looking for a vegan option? They have that too.
Tooth Brush
You have likely seen them everywhere and yes, I use them too! I love my bamboo tooth brush, actually. I even got Brad to switch and even though he was pretty hesitant about a wood tooth brush, I don't think hes ever thought another thing of it. If you're ready to buy them in bulk so you are set for quite a while or so you have some on hand for guests you can buy 10 here , buy in bulk plus your dental floss or go with my next purchase, this set for the whole family (plus our dental floss!).
Tooth Paste
Please don't use tooth powders or tooth tabs without consulting your dentist. Every single one I used (I tried about a half dozen) were all absolutely horrible on my teeth and made my gums sensitive and bleed….not great. Currently I use Tom's for the sake of my teeth but will be trying David's soon; if you'd like to try it and let me know how you like it. I'd love to know!
Razor Ohhhh, the safety razor, a hilarious name since it's only safer than using a freaking straight razor. I changed from plastic razors to my safety razor pretty early on in my journey and I do love the shave it gives and how long the blades last. With a safety razor there are two important things to note: Take your time and condition your skin well before and after use. I am looking to upgrade my safety razor to this pivoting head model so I can speed up my shave time a little…the other razor does tend to take up a lot of time to avoid nicks.
Menstrual Cup
I am obsessed with mine, OBSESSED. For me, the Lunette cup is the winner but it's important you visit PutACuptInIt.com and figure out the correct size for you. The key to a good menstrual cup is that it fits perfectly or else it will hit your cervix, as mine was doing to me for some time, which can be incredibly painful.
By the way, yes…I do have extremely bad periods and I still use it.
Reusable Cotton Rounds
Okay so they aren't round but they are cotton (flannel) and you can make them yourself so easily! Check out my tutorial on the blog, which I am soon updating with the latest and easiest method. You can use these to remove makeup or apply a toner (I do both). Soon there will be a tutorial about the drawstring bag I use to wash them in as well. If you are one of the readers of the blog who do not sew you can buy some here.
Toilet Paper
One of the new subscriptions we have started using is Who Gives a Crap, a toilet paper subscription service that delivers 100% recycled paper toilet paper, with plastic free packaging to your door. You can also get facial tissues, paper towels or premium bamboo toilet paper for a softer feel on your bum.
Click here for $10 off your first order!
Cleaning
Laundry Detergent
For laundry and dish detergent we currently use Dropps. I love Dropps. I'm not even sure why I feel such an intense love for the company but I do and for that reason I think I will stay using Dropps forever. I get the biggest order possible, it comes in cardboard packaging and they do not waste and ounce of it. I love Dropps and I think you will too. You can get oxi ooster pads, sensitive skin and baby detergents and even washing bags and dryer balls.
Click here to get $20 off your subscription!
Dish Detergent
Dropps dish detergent pods almost broke my heart. Almost. We FINALLY went through our other pods and i got to try out Dropps, as mentioned I am in inexplicably in love with Dropps, and I was excited to get use them!…Then we had soap scum on EVERYTHING and I was genuinely heartbroken. We went through a few weeks of this then I suddenly checked the dishwasher settings and realized that at some point we had turned off "Hi Temp Wash" and "Normal Wash", once I turned on these setting our dishes have looked great. So, I want you to keep your own settings in mind when you use Dropps Dish washing Detergent.
Click here to get $20 off your subscription!
Dish Soap
Dish soap has been my most difficult search, I love my Mrs. Meyers but I knew there had to be a better solution than their plastic bottles. Finally I came across cleancult. I was super excited to try out cleancult since their refills come in recyclable cartons and I had heard some rather terrible things about Dish Blocks. The cleancult dish soap is so good Brad actually remarked on how well it works on our dishes, completely unprompted! And he's right, it cuts grease really well and doesn't leave streaks which is more than I can say for 99.9% of "eco-friendly" dish soaps.
Click here to get $20 off your subscription!
Paper Towels
For the most part I don't use paper towels but I have tried paper towels from Who Gives a Crap and really liked them. If you're not quite ready to use t-shirt rags and unpaper towels or, like us, you want to have some normal paper towels on hand for pet messes, etc. then I definitely recommend Who Gives A Crap.
Resuable Paper Towels
Also known as "unpaper towels" I have a tutorial coming up on how to make some for yourself. If you are one of the readers here who does not sew or would prefer to just buy it (trust me, I get it) you can purchase some here.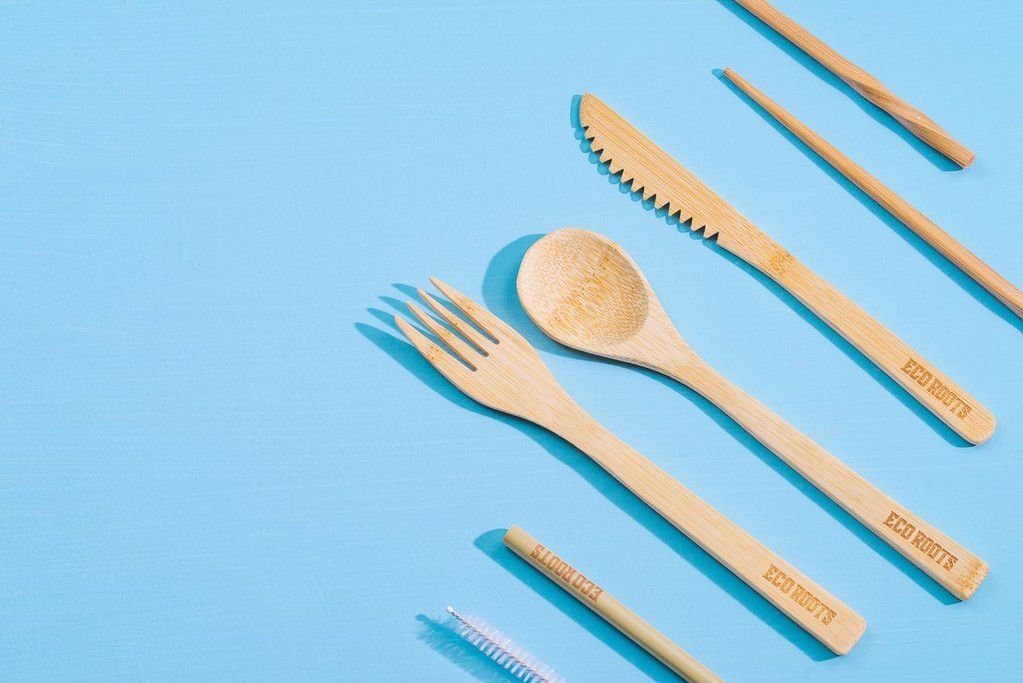 Zero Waste on The Go
Reusable Produce Bags
Most people I know have a thousand reusable tote bags but are still using plastic produce bags. I got reusable produce bags for Christmas years ago, they were one of my first zero waste products I ever had, and I still use those same ones today. I am so in love with them and thrilled to not chase the small bags all over house. There will be a tutorial coming in the future on making your own or you can snag a set of 6 now. Don't forget. Those plastic produce bags are reusable as well! If you find yourself in a situation where you have to use them, then at least give them a long life and use them again and again.
Bamboo Cutlery
I love my bamboo cutlery and carry it everywhere; its lightweight, never gets questioned in security bag checks and pretty cute actually. I love this set because it's got everything you could possibly need, plus a way to clean your straw. Now I even carry cutlery for the whole family, no more plastic forks for us. (Ps. Some cutlery from home tied into a napkin works just as well. I did that for a couple years before I was gifted my two cutlery sets)
Reusable Straw
I hate the metal straws. I cannot be trusted not to chomp on them or try to chew on them. I have found that the silicone tipped metal straws and bamboo straws work great for me though. Choose your favorite straw, carry it in with your bamboo cutlery set and look at you go!
Keep Cup Travel Mug
This mug was one of my Christmas gifts and I really like it. I have the bigger size and its really great to travel with. If you're like me and end up putting it in your bag after you use it then just know it is kinda heavy to carry around, even empty. ALSO! I drink my coffee luke warm at best, if you love hot coffee…that tiny band of cork could be quite literally too hot to handle. If you like hot coffee I think it may be worth looking into these JOCO cups since they have bigger sleeves than the Keep Cups.
Klean Kanteen Waterbottle
I bought this ginormous one for Brad, who works out and does much psychical activity. We even take it to the Disney Parks to refill. Great news is? It's pretty lightweight when empty. Bad news? It's so heavy when full. Still love it though.
Go Pure Pod
The problem with committing yourself to NOT drinking out of plastic water bottles is that: hydration comes first and eco-friendy options can be hard to find. The Go Pure Pod is a tiny filter you can slip into any water bottle for filtered water on the go. I love mine, it's become a must for all of my traveling.
My Favorite low waste/zero waste retail sites:
Eco Girl is one of my new favorite eco friendly/zero waste sites. They have a fantastic selection of eco-friendly, reusable, vegan and zero waste items that even includes accessories, swimsuits and children's items. 1% of their
Run by Lauren Singer, a zero waste darling and influencer that you've probably seen Buzzfeed videos about, Package Free Shop will ship your zero waste goods free of plastic and with reused packing supplies. Click here to get $10 off your next purchase at Package Free Shop!
Wild Minimalist Another favorite of mine the Wild Minimalist has a great range for people with young children and wonderful options for a zero waste home.
Your Best Resources:
Kathryn is one of my favorite people to follow; She is kind, patient and skips the zero waste guilt (THANK YOU!!!!) I rely on her site a lot for everything from advice on dealing with eco-anxiety to product reviews to great recipe ideas.
I am linking you specifically to Litterless' "getting started" section…which will tell you what zero waste is, why recycling isn't enough, where you can buy in bulk and more.
Bea Johnson is kinda the queen of the modern zero waste movement. The lifestyle was here long before her but she really brought to the forefront of a lot of people's minds and proved that you can raise a happy, modern family in a beautiful zero waste home.