Updated: Nov 16, 2021
Are you new to machine embroidery and not sure where to start? Maybe you're so new you don't even have a machine yet. That's okay! No matter how early you are in your machine embroidery journey this is the series for you. In this 5 part series I will take you from buying your machine, all the way to embroidering your first projects.
Machine Embroidery for Beginners: How to get started
Week 1: Best Embroidery Machines for Beginners
Week 2: Choosing Fabric for Machine Embroidery
Week 3: Machine Embroidery Designs
Week 4: Intro to Machine Embroidery Stabilizers and Notions
Week 5: Getting Started with Machine Embroidery: Putting it All Together
Let's get started this week with embroidery machines! First off I'm gonna give you my recs for the best embroidery machines.
After that you're gonna find the questions you should ask yourself and a sewing machine dealer to help you choose the right machine for you.
And last I'm gonna give you my answer to the question, "Which machine is best for beginners?"
So let's go! We have a lot of ground to cover!

When someone is asking me about a great embroidery machine for an even greater price point, I point them in the direction of the Eversewn Sparrow X2.
I've been a big fan of Eversewn machines since they first came out. These machine are a really great entry level sewing and embroidery machine PLUS Eversewn has a full line of notions and stabilizers which are super cute and cover all types of sewing.
The Sparrow X2 is a combination Sewing/Embroidery machine complete with thread cutter, Bobbin sensor and it's compatible with 64 bit smart devices to run the embroidery interface. The X2 also has an embroidery area of approximately 4.75 x 7 inches, 850 rpm stitching speed, over 100 embroidery designs included, and two embroidery hoop sizes included.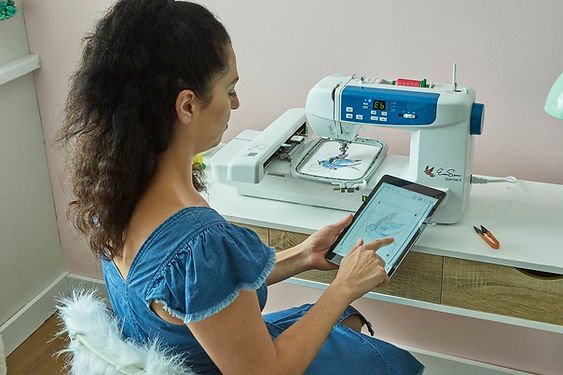 You can even download the Sparrow X2 App now to check out it's functionality before you buy. I did and I enjoyed poking around in the app even without the machine.
Check out this video about the Sparrow X2 from Eversewn:
https://youtube.com/watch?v=FxbRAQRNHDQ%3Fautoplay%3D0%26mute%3D0%26controls%3D1%26start%3D2%26origin%3Dhttps%253A%252F%252Fwww.toughkittencrafts.com%26playsinline%3D1%26showinfo%3D0%26rel%3D0%26iv_load_policy%3D3%26modestbranding%3D1%26enablejsapi%3D1%26widgetid%3D1
I'm kinda obsessed with the b79, its my number one rec for people who are excited to get machine embroidering and have a slightly bigger budget. Bernette sewing machines are engineered by BERNINA meaning you get the incredible functionality of a BERNINA at an incredible price point.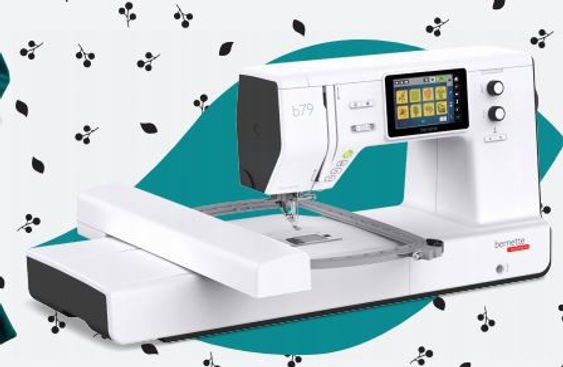 The b79 is a combination sewing/embroidery machine has incredible features like dual feed, programmable foot control with kick back, stitch designer, 5 inch color touch screen and more. What I love about it for a beginner is the hoop sizes and the ease of navigating the big beautiful screen.
Check out this video with a quick overview of the b79:
https://youtube.com/watch?v=3aTOp4UqKx8%3Fautoplay%3D0%26mute%3D0%26controls%3D1%26origin%3Dhttps%253A%252F%252Fwww.toughkittencrafts.com%26playsinline%3D1%26showinfo%3D0%26rel%3D0%26iv_load_policy%3D3%26modestbranding%3D1%26enablejsapi%3D1%26widgetid%3D3

Click the pic to sign up for Foundations of Machine Embroidery
Yes. Literally any of them.
BERNINA's are my number one rec when asking about sewing, serging, quilting and, of course, embroidery.
How do you pick out a BERNINA? You should head to your local dealer and try out the machines, ask your questions and maybe even attend a BERNINA event to play on them in real time.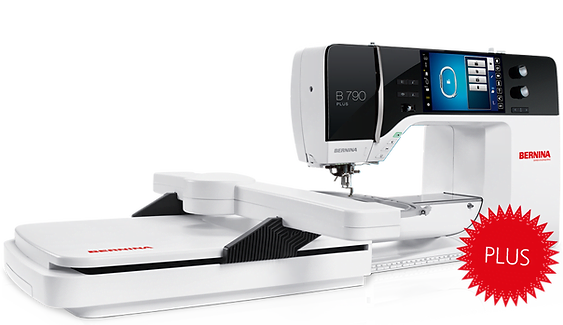 My favorite model is the B790 PLUS as it was my first machine, and it tends to be the perfect fit for the most sewists. It has incredible design placement options, a nice size throat space and the incredible power and precision that you can expect with a BERNINA. I love BERNINA Embroidery machines from the B880 PLUS to the B480. Every model is great and which model is right for you, just depends on you!
Learn more about BERNINA Embroidery machines here
Check out the BERNINA 790 PLUS
https://youtube.com/watch?v=a0hx61Lz3sQ%3Fautoplay%3D0%26mute%3D0%26controls%3D1%26origin%3Dhttps%253A%252F%252Fwww.toughkittencrafts.com%26playsinline%3D1%26listType%3Dplaylist%26list%3DPLfT1DJU1aElopC13o8AYSD88-qf63kYDu%26showinfo%3D0%26rel%3D0%26iv_load_policy%3D3%26modestbranding%3D1%26enablejsapi%3D1%26widgetid%3D5
Choosing the right machine for you
I have very strong opinions on embroidery machines but I'm very realistic when recognizing that they are just that: opinions! You may find that you need something else in a machine that a model I suggest doesn't offer, and that's okay.
At the end of the day the best embroidery machine is the one you can get and start to use now. There is definitely a caveat to this advice because if you are six months away from saving for your dream machine, then it might be worth it to just wait for best machine you can afford. I just don't want you to put off your embroidery journey for years to save up for the perfect machine; get a good machine now and start embroidering.
There are some key factors when choosing what machine to buy: -What kind of sewing do you do most? How will this machine help you do that sewing better? -Do you want an embroidery only machine? -How much space do you have in your sewing room? -What's the most robust machine you can get in your budget? -Do you like the dealer you would be buying from? Do they have an inclusive, helpful business that you will be happy to frequent?
-What are you wanting to embroider? Can you do it well on this machine?
-What hoops does the machine come with? Are there bigger sizes available to purchase?
And most importantly to me:
-Is the screen easy to navigate?
-Can you place your designs on your project with ease?
-What does the in-store support for that machine look like?
-How can you get it serviced for regular maintenance and machine issues?
These are all things you need to consider when picking out any sewing machine, no matter if it's your first or fourth! There are many great machine options out there in the world, but which machine will be best for you?

"Which machine is best for beginners?"
I get asked this a lot and it's not a recent development. I have worked with BERNINA machines for six years now and this question dates all the way back to the beginning of my career.
I think it's easier to answer when we invert the question: Which machine should beginners avoid?
None. Yes, really. Whatever machine you love and excites you to work with: That's the machine that's best for beginners.
I know the instinct is to buy a smaller machine with less features as a beginner but that can really backfire on you. If you make your hobby harder on yourself because you didn't buy a robust machine then you could end up hating or avoiding sewing, quilting or embroidery. I have seen that happen a lot!
I have never once seen someone return a machine because it could do too much.
You should always buy a machine that gives you room to grow into that machine. Don't buy a machine with exactly what you need right now, but a machine with features and functions that give you room to grow your craft, creativity, and expertise.
Once again, the best machine you can get is the one you can get now (or in the near future) so you can actually get started with the craft. So, while you want a machine you can grow into and one with features that will make machine embroidery easier and more fun for you, that machine may be a wish list item for now and that's ok! Have questions before you buy your first (or next) embroidery machine? Hop into the Tough Kitten Crafts Facebook Group and ask away! You can always DM me on Instagram as well to ask your embroidery questions.
Some other blog posts you should check out are 5 Thing I Wish I Knew Sooner About my BERNINA Embroidery Machine and My Four Must Have Sewing Machine Features.
Have you bought an embroidery machine? What machine did you buy and why? What machine are you leaning toward getting? Comment below and let me know!