Updated: Dec 9, 2020
If there is one thing I hear over and over again from my students and community members it's that stabilizers get confusing fast! I totally agree with you there.
So many stabilizers and each one seems to have it's own subsection, classifications, categories types-AHH! It's enough to drive you mad.
Let me help you better understand 3 different ways stabilizers are classified to help you better understand stabilizers in general.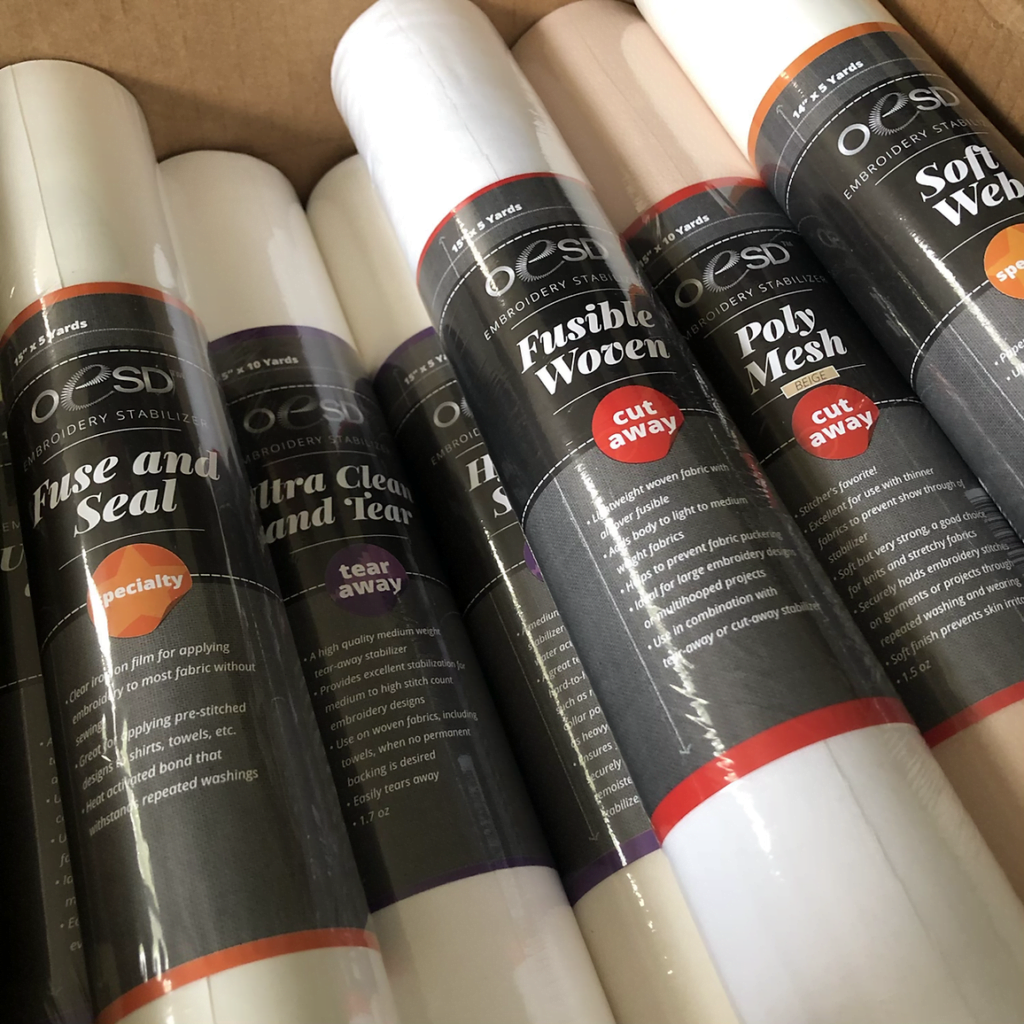 First let's talk about the most prevalent stabilizer classification which is the 4 stabilizers categories: Cut Away, Tear Away, Wash Away and Specialty.
While each brand chooses which stabilizers go into each category, these categories are steadfast across every brand. The three main categories are aptly named for how you can remove the stabilizer after stitching out, which is the main first (and maybe most important) piece of info you need while choosing your stabilizer. Let's do a quick break down:
Cut Away
Cut Away is removed by cutting it away from your fabric/stitches and it's the most user friendly stabilizer. It stays through wash and wear so you should only use it when you want stabilizer to stay with the project forever.
Tear Away
Tear Away is removed by tearing away the stabilizer from the stitching, though it's more like tearing a long the perforated edge of the stitches. Tear away has awesome uses away from embroidery like decorative stitches, button holes and tricky hems.
Wash Away
Wash Away stabilizer does exactly that: it washes away without a trace. This is great for sheer fabrics or freestanding lace objects where you want no remnants of stabilizer.
Specialty
Specialty is the nebulas category…it's basically the "And the rest!" from the Gilligan's Island theme song. Specialty stabilizers help support your embroidery projects aren't strictly "stabilizers"

Click here to enroll in Stabilizer School
Within each category of stabilizer you then have stabilizer weights. The weight of the stabilizer tells you how strong the stabilizer is and how many stitches it can stabilize. Another good rule of thumb is the heavier the fabric the heavier the stabilizer you should use. Below is a general guideline for how many stitches in a design work best for a stabilizer weight, but ultimately you have to use your best judgement, see what your brand stabilizer recommends for their various weights and take into account your stitch density for your design.
Light Weight
Roughly 12,000 or less.
Great for line work
Medium Weight
Roughly 12,000 to 25,000
Medium weight covers your butt for pretty good amount of your designs.
Heavy Weight
Roughly 25,000+
Oh yeah momma! This is for a lot of stitches.

Click here to learn more about Free Motion Quilting Academy
Last but not least let's cover some stabilizer types.
These types of stabilizer can be in any category.
Backing
Backing is what most people think of when they think of stabilizers, the paper like substances that go behind your embroidery. Stabilizer is known as "backing" in commercial embroidery.
Topping
Backing is Topping is the opposite of backing, which makes sense with the name right? If you are dealing with fabric that has a pile or nap to it, you want to use topping on the top of it to be sure your design isn't effected by the texture of the fabric.
Cover Up
Cover up is used when your fabric has a high contrast design on it or if your design is in high contrast from fabric and needs to stand out better. Cover up doesn't wash away, it sticks around to continue to make the design look great.
Adhesive
Adhesive stabilizers are great for when your stabilizer cannot be hooped. If something is small, awkwardly shaped, too bulky or very delicate then you can use an adhesive stabilizer to float your project in the hoop. I love floating items, it's great.
Fusible
I am also a huge fan of fusible stabilizers and use them whenever possible. Fusible stabilizers will adhere to your fabric using heat, so they may not work for all material or project types, but they are a godsend when you can use them.
Click here to check out my blog post on My 3 Favorite Specialty Stabilizers.
Click here for my blog post about The 5 Must Have Stabilizers.
Want more stabilizer knowledge? Sick of feeling defeated by all these stabilizer categories?
This easy to watch, keep forever, online class is your key to knowing stabilizers inside and out!